bene : studio is a global consultancy, helping startups, enterprises and HealthTech companies to have better product
Meet Award Winning CEO, Who Recovered $50M for Hospitals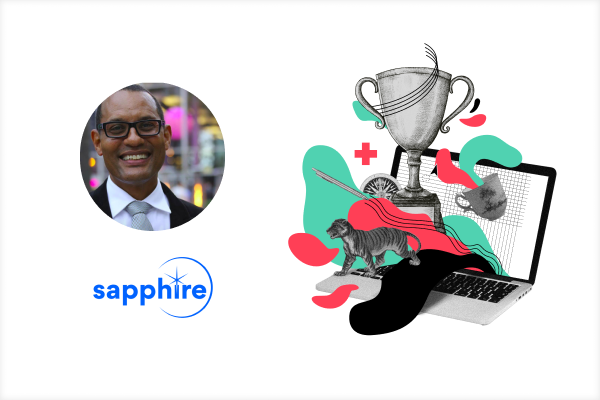 HealthTech Networking Club member and winner of the HealthTech Startup Award in February, Walter Larkins CEO and Founder of Sapphire, spoke with the bene : studio team about the company's story, their service offerings, and what the future holds.
Sapphire provides patient-centric, cost-effective, cloud-based SaaS solutions to healthcare providers enabling access to data mines and RCM information.
The Story
Sapphire's story begins when Walter Larkins was a Sales Rep with a Johnson & Johnson, startup company Ethicon EndoSurgery. One day he was asked to inquire on the status of an unpaid surgical device invoice; an unusual request of a sales rep. According to the hospital's purchasing director, they were having cash flow problems that impacted their ability to pay. The director stated, "insurance companies don't pay their bills sometimes at all or properly." He said, "this behavior costs us millions in lost revenue and increases our staffing costs to argue with insurance companies, and the high turnover because of how tough the job is".
Walter discovered that these challenges were a common problem, not often spoken about in the healthcare industry.
He then left Ethicon EndoSurgery to start his own startup company that developed a minimally invasive heart surgery technology he invented that was later sold to JNJ. Walter never forgot the challenges facing healthcare providers, and ultimately decided to start an AR management company with a mission to solve the problem. Focusing on working with insurance companies rather than pursuing patients who are already going through stressful financial times and health challenges.
"Why go after the patients when the insurance company has the money?"
Walter soon discovered having built an organization with over 200 offshore and US staff, throwing more people at the problem was not going to work. Complex insurance contracts, manual calculations to determine what the insurance owed, manual appeal letters, and long training cycles for staff, had to be solved by software. A thorough evaluation of the available software found most AR software focused on recovering payment from the patient, where the billed amount was used to determine what was due. So Walter developed his own software.
It automated all manual tasks, increased efficiency, and productivity by over 75%. More importantly, it worked! It enabled a win-win situation between his company, the provider, and the payer to be created that enabled the recovery of over $50M of written-off claims from insurance companies in 5 years. Walter decided in 2018 to form startup company Sapphire, with the initial goal of offering his secret sauce to hospitals, and other providers and then to insurance companies with the vision to ultimately improve patient care.
"Our bolt-on, cloud-hosted, web-based, SaaS platform disrupts the traditional relationship and behavior between payer and provider placing them on an even playing field."
The Vision
Keeping people healthy by taking the "practice out of practicing medicine", providing optimized cost-effective medical treatment pathways.
When asked, "why share your secret sauce when it gives you a competitive advantage against other similar companies?" Walter's answer is "Sapphire will make AR management companies obsolete", preventing them from writing off their revenue. Walter stated COVID-19 has highlighted how critical hospitals are to our economic and societal survival.
"We enable hospitals to improve revenue opportunities, reduce operating costs, while Improving patient outcomes, enabling hospitals to survive and thrive and serve their communities."
The Size of The Problem
The problem for the government and insurance companies is that healthcare in the US is the most expensive in the world with the worst outcomes. The nearly 5% growth rate is unsustainable with Medicare and Medicaid facing insolvency by 2024 and 2026 respectively. What is the response by insurance companies?
Major surgery, cutting payments to hospitals each year by 5%, and making it harder for them to get paid. Over 10% of all hospital bills are denied by insurance companies or $282B (a loss of $5M/hospital) that can shift the payment burden to patients. Nearly 67% of all bankruptcies in the US are medically related. Further impacting their cash flow 10-20% of bills are paid late or underpaid. The high administrative operating costs for hospitals to appeal claims is over $118/ claim or nearly $9B. This means that many hospitals, just to manage the sheer volume of new claims, are forced to write off between 2-10% as uncollectible that have missed the time allowed to even appeal.
Pre-Covid, a recent CBO report stated, in the face of lower reimbursements and higher costs and average net margins of 3%, "If hospitals didn't increase their revenue while reducing operating expenses; by 2024, 60% will have negative operating margins."
Walter says that "over 95% of patients being covered by complex contracts negotiated by private insurance companies with hospitals. Including patients covered by their employer, the ACA, Medicare, and Medicaid, just payments are shifting from services provided by hospitals to payment based on the patients just figuring out what the expected contracted reimbursement on millions of bills is challenging and costly. To make things worse, insurance companies are basing reimbursement on hospitals reducing complications and readmission rates. Unfortunately, people are sicker, older, and have more chronic diseases related to unhealthy behaviors established earlier in life. Hospitals also have limited control over the quality or the technology that provides visibility to the treatment pathways and costs directed by primary care physicians."
"So the opportunity was big and so were the challenges."
Walter said, "I initially faced 3 major challenges; differences in how hospitals and insurance companies view risk and opportunity, a general lack of trust between them, and a major conflict between their business models." These factors influenced their behavior and created a generally adversarial relationship. The solution had to benefit providers and payers from their own unique perspectives.
The Solution
Sapphire's platform is based on analyzing provider and payer behavior and establishing trust between the parties that the information is accurate. Over 90% of a hospital's revenue is attached to a contract. "The goal of any contract", according to Walter, "is to establish the rules of engagement and disengagement". "The primary assumption is that the contract will benefit both parties". What happens if either party does know if they will benefit? Walter states, "the heart of Sapphire Platform is its Contract Life-cycle A I Management Solution CLAIMS(™) module." It utilizes a proprietary simple to use, front-end UI that enables the provider and payer to enter and amend, view, analyze, and negotiate even the most complex contracts. CLAIMS then utilizes a proprietary process to calculate the expected reimbursement and automatically attaches the appropriate contact to each of thousands of bills.
Sapphire's ability to collect and analyze billing, financial, and contracting data, and follow a patient's treatment pathway from the primary care doctor to the hospital provided proof that insurance companies were engaging in a pattern of behavior of claim denials, underpayment, late payments, or violations of contract terms and conditions.
"We ran the data across all these different providers, and we found that almost irrespective of the insurance company, they were all denying claims across the entire continuum of care."
Hospital accounts receivables departments also use Sapphire's software to automate and enhance the performance of their internal staff. Visibility to staff activity and automating all activity that can be best handled by software including auto-generating intelligence appeals based on the evidence of insurance behavior and makes it easier to settle claims. This results in a top-line revenue impact that can exceed 10%. Their backend platform improves efficiency and productivity by at least 50% managing appeals and follow-up.
"COVID has brought to light the magnitude of the problem with Insurance companies, denying, underpaying, and late paying bills. 10% of all claims are denied a $262B impact on hospitals and patients. Providers are in trouble. Pre-COVID over 60% were at risk of going bankrupt. Now the situation is much worse."
Sapphire partners with hospitals and other providers enabling them the flexibility to choose different modules and pricing, a monthly subscription service, or having Sapphire provide AR management services. Its CLAIMS™ module is the starting point of an engagement with other providers with performing the initial analysis. The software analyzes billing, financial information from financial systems like Epic and Cerner, and contracts between the hospitals and other providers, and the insurance companies. All of the data gets turned into an algorithm which results in a financial profile dating back roughly three years. The economic impact of this behavior is then examined. Sapphire will also help customers reach a bulk settlement with these insurance companies using the initial analysis findings for a percentage of the analysis fee, which is payable against that future receivable after receiving payment from the insurance companies. If hospitals choose to opt into other modules or the software subscription, the Sapphire team will train a group of 5-10 hospital staff who will act as the trainers for the rest of the hospital unit.
The Future
Looking to future trends, Walter states that the demand for primary care physicians or PCP is increasing while the supply is decreasing.
Many physicians are leaving the field and the pipeline is not adequate to keep up with demand. In addition, as reimbursements have declined many PCP reduced the time they spend with patients to 10-15 minutes. Patients have also switched plans due to changes in employment status or insurance company and found their PCP was not in-network, so the personal relationship between the PCP and patient was lost.
Turning to telemedicine, Walter states, "COVID-19 accelerated a trend that was already happening. The 1st phase is virtual PCP call centers that are already gaining traction with patients and employers, eliminating travel time and burning time in waiting rooms for a 10-15 minute per encounter." Walter believes the 2nd phase will be the emergence of virtual PCP supported by AI. Walter wants to aid doctors by providing an optimal patient pathway by utilizing both the financial and patient data. They also plan on helping with price transparency by delivering the expected amount that the patient is obligated to pay, therefore lessening the effects of bill shock on patients.
"So that they don't freak out and they know what actually the insurance company is supposed to pay. I call it non freak out factor."
The Successes
When asked about the greatest successes since Sapphire was founded, Walter listed the team first. Having a great loyal team is a major success in Walter's eyes. He expressed that Brenda Wunsch joining the team as Co-CEO was a great value add as they have complementary superpowers.
"There are so many great inventions in the patent office that never see the light of day. So you need to have a good team and people who believe in what you are trying to accomplish to make things happen."
Wunsch who was also in the call added that another great accomplishment was the successful acquisition of 2 of the 30 facilities in a behavioral health care group for initial analysis. Especially during COVID when it has been challenging to talk to hospitals. An additional major success was that the software saved a hospital $50 million over a five-year period.
The Advice
Walter's first piece of advice for founders wanting to enter the healthcare and AR management space is to get people around you that really know a lot about healthcare. You have to have expertise at various levels. There is a reason that healthcare in America is in the condition it is.
On the AR side, especially relating to the collection agencies, Walter says that he views that in the future, the days of going after the patient are going to be numbered. Instead, he recommends shifting to an industry that isn't focused on targeting victims of circumstance.
He states that in healthcare it's difficult to think out of the box because the box is not working and isn't projected to work.
"Now it's time for the back of the napkin, solutions. "
Keeping people healthy and out of the hospital is the government's and insurance companies goal. People effectively managing their chronic lifestyle related conditions to stay out of the hospital has to be the goal of any new technology. Sapphire's initial focus on insurance company receivables is so hospitals can stabilize their financial condition and focus resources on patient care. The long term the goal has to be getting patients healthy and compliant. Walter states, "that should be the most important focus and goal for any founder in healthcare."
The Pitch
To learn more about Sapphire's suite of solutions, watch their full pitch presentation from the HealthTech RapidConf: February on YouTube.
About The HealthTech Networking Club
Sapphire is part of the HealthTech Networking Club, an invite-only networking club that connects key players in the Healthtech industry and provides private networking opportunities.
Become a member and network with Walter and other HealthTech, Telehealth, or IoMT startup leaders, consultants, investors, and healthcare providers. If your organization is a part of the HealthTech ecosystem, apply for an invitation to the HealthTech Networking Club here.
Let bene : studio enhance
your digital product!