bene : studio is a global consultancy, helping startups, enterprises and HealthTech companies to have better product
HealthTech Startups February showcase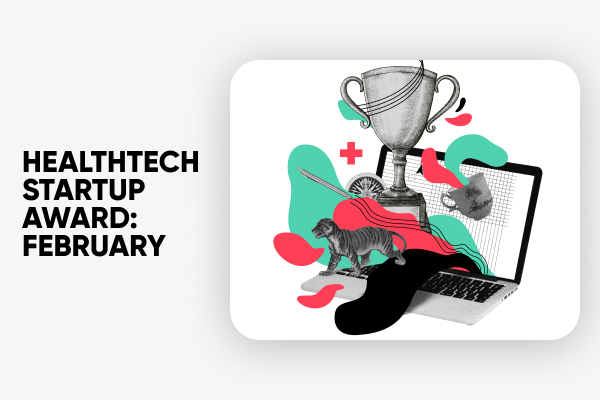 At the February HealthTech RapidConf, after key industry leaders explored the best ways to work with Pharma, 4 startups took the stage to compete at the HealthTech Startup Award to win a free Product Acceleration.
The panel of judges for the session included Ciro Gonzalez (Munich Re Ventures), Gary Goldman (Global Health Impact Fund), Roger Kuo (Going VC), and Balint Bene (bene : studio).
The award winner walks away with a Product Boost and Product Acceleration service package from bene : studio, worth $2300, to enhance the development of their digital health product. They also receive a one-on-one coaching session, courtesy of Runway Innovation Hub.
All startups that participated in the event receive a free Product Boost from bene : studio.
The events are organized by the HealthTech Networking Club, which connects startups, investors, healthcare providers, and other key players in the HealthTech industry providing private networking opportunities.
Meet the 2021 February HealthTech Startup Award participants
Family Proud

The startup lead by CEO Jaden Risner pitched a care management platform to help patients and families navigate their care journey.
The problem Family Proud founders faced in their personal life is that health problems put a big burden on families, especially financially as medical expenses are the number one reason for family bankruptcy.
The platform provides peer support and resources to supply vital information to families where they are, across the care continuum.
Revenue comes from software licensing and registry revenue share. Currently looking for the first round of funding of 750k USD, out of which 550k has already been raised at the time of the presentation.
Robyn

Represented by Founder Allison Kasirer, the startup presented a solution to connect aspiring, expecting, and new parents with virtual parental wellness and education providers.
Their mission is to democratize and demystify parenthood through 14 different service categories with a range including birth education, nutrition, doulas, and lactation advice as well as therapies.
They have a 75k parent community and 200+ complimentary providers in their network.
Judge Gary Goldman of the Global Health Impact Fund, who is an MD himself, was blown away by the idea: "I wonder why anyone hasn't done this before."
Mente

Mente provides a surgical instrument tracking service through RFID technology to prevent waste, provide surgical education, predictive scheduling, tray optimization, instrument forecasting, and automated billing.
80% of instruments in the operating room (OR) are unused during a procedure but can be contaminated and have to be thrown away. Mente's first product offers a tray optimization to reduce instruments in the OR, ensuring the care team has exactly what they need. This can result in 220 USD savings per surgery according to the data CEO Wes Hill presented to the panel of judges.
Sapphire RCMS

Sapphire founder Walter Larkins delivered the pitch for their patient-centric, cost-effective, cloud-based SaaS solutions to healthcare providers enabling access to data mines and RCM information.
Sapphire aggregates data under a unified enterprise platform that offers analytics out of the box. Their system does not require providers to invest in a new billing or EMR system.
Sapphire Software has enabled a more than 4% improvement in top-line revenue and improvement of staff performance and efficiencies by over 50% and in one case recovered over $50 million of lost patent revenue dollars from insurance companies.
The judges voted that Sapphire RCMS was the winner of this month's Award.
Watch the startups deliver their pitches
Join the next HealthTech RapidConf
Visit the HealthTech Networking Club page to learn more about the upcoming events and if you feel your HealthTech organization could contribute and profit from the connections with startups, investors, suppliers, consultants, and healthcare providers, consider applying.
Apply to pitch at the next HealthTech Startup Award. Send a mail to partner.us@benestudio.co with the subject line "Pitch Application".
Let bene : studio enhance
your digital product!