bene : studio is a global consultancy, helping startups, enterprises and HealthTech companies to have better product
The HealthTech trends we've seen in 2022: Innovation and rapid growth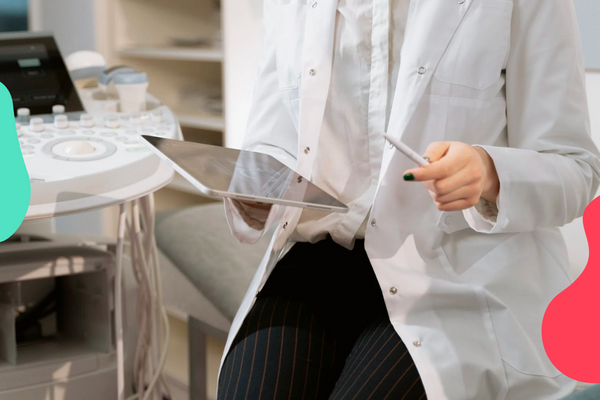 Catalyzed by COVID, we could see a vast transformation in HealthTech this year. Telehealth, Remote Patient Monitoring (RPM), and mobile solutions are disrupting the health industry: even though most people still prefer to see their doctor in person, many virtual clinician networks and healthcare players are entering the market and going virtual. Hospitals, health systems, and even life sciences companies are overwhelmed by the menu of digital health solutions they're seeing.
Bringing medical services into patients' homes is now a thing, with a continuously growing engagement and interest. This phenomenon sets up a new standard and increases competition and client expectations. As customers expect, healthcare institutes will implement and acquire different digital solutions if they haven't already.
We collected some of the biggest trends we discussed in our "HealthTech trends in 2022" webinar!
Rapid technical development in HealthTech: RPM, AI, and IoT
Many innovative approaches have emerged since the COVID-19 pandemic. The importance and use of remote diagnostics, remote monitoring, and remote care management are undeniable based on their immersible impact on patients' lives. With artificial intelligence (AI) being used more frequently in healthcare systems, patients have more opportunities to benefit from these innovations and enjoy better care, such as in radiology, cancer diagnostics, and dermatology. Remote monitoring is getting more advanced with modern IoT devices; you don't have to worry about going to your doctor to take your measurements.
RPM became a $40 billion industry in the US, and we're not surprised. By implementing remote monitoring, the healthcare system could save 3.3 billion euros per year in Germany, and we're not even talking about the benefits experienced by the patients – based on Tobias Silberzahn's insights. As technological improvements are taking off, Bluetooth-enabled devices can now be set up at the patients' homes for remote examination and diagnosis in primary and specialty care. The Internet of Medical Things (IoMT) is now a reality, and healthcare companies are starting to explore ways to harness this technology for their benefit.
The rise of Digital Health Ecosystems
Online appointment booking, teleconsultation, digital therapeutics, symptom checking, medical chatbots: there's a big trend towards merging these point solutions to build multi-service solutions, resulting in the rise of digital health ecosystems. We're moving towards integrated care, incorporating services like remote patient monitoring or health coaching. Some Asian digital health ecosystems have more than 300 million customers already offering one-stop solutions. We can see this trend emerging in Europe too, but the continent's very regulated and classical setup of hospitals and caregivers makes the development a bit slower.
We can also see the peak of mental health and well-being apps: there are more and more services offering virtual consultations for people suffering from mental illnesses. Next to building sleep tracking and meditation apps or implementing AI chatbots, we can find numerous solutions focusing on the individual's nutritional needs, fitness, or stress level, often incorporating wearable smart devices.
Acquisitions and growing investor interest in HealthTech
Since Amazon launched its own healthcare company offering virtual primary or urgent care visits from the comfort of the users' homes, we can see more and more enterprise giants entering the digital health space, like Verizon and Microsoft. Before COVID, big pharmaceutical companies and big technology companies had already started getting into health technology: not necessarily doing their own Research & Development, but looking for smaller companies developing new products, new treatments and services, and then acquiring them once they reached a certain point and success. It has only accelerated over the past year: there's a lot of VC interest in these companies, and the biggest tech enterprises want to be involved as well.
And what's our advice for smaller businesses in HealthTech? With better patient outcomes, you have a better story to tell potential customers. This will increase your value as a company and contribute to your success in this fast-paced industry.
HealthTech trends, as seen by the experts – Webinar
We had the pleasure of inviting experts from the medical field: Tobias Silberzahn (Partner at McKinsey & Company), Rebecca Gwilt (Partner at Nixon Gwilt Law), and Joshua Goldberg (Partner at Nath, Goldberg & Meyer) to deep dive into the latest HealthTech trends. If you'd like to learn more about the future of HealthTech, watch our webinar on-demand:
Designing and developing top-notch digital solutions
As a global consulting firm focusing on HealthTech, corporate innovators, and startups, bene : studio has worked with GE HealthCare, DynamiCare, and Johns Hopkins University. We create IoT, mobile & web apps and enhance core systems with user experience-first approach. ​​Join 100+ global enterprises and early-stage startups who have already improved their mobile and web apps with the help of bene : studio over the past 10+ years! Book a free consultation, tell us about your goals and needs, and we will show you how to get there.
Let bene : studio enhance
your digital product!