bene : studio is a global consultancy, helping startups, enterprises and HealthTech companies to have better product
Intellihealth named HealthTech Startup of November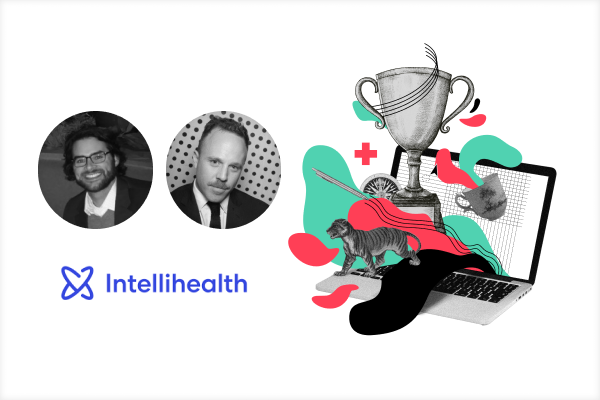 HealthTech Networking Club member and winner of the HealthTech Startup Award in November, Sloan Saunders, CEO, and David Forer, Brand Director, of Intellihealth, spoke with the bene : studio team about the inspiration behind the company, how the platform works, their biggest successes so far, and what the future holds.
Intellihealth is focused on the specialized treatment of chronic conditions using digital technologies combined with medical science, behavioral tools, and psychology. Primarily focused on treating obesity as a medical disease, Intellihealth improves patient outcomes and cost savings with their clinical decision support and data management software.
The Story
Intellihealth's story begins when Sloan Saunders noticed a massive supply-demand imbalance in the treatment of obesity while his wife, Dr. Katherine Saunders, was completing her obesity medicine fellowship at Weill Cornell. For the more than 150 million Americans who need specialized obesity care, there are currently only 4,200 board-certified and fewer than 100 fellowship-trained obesity specialists to address this need, Saunders states. And so the mission to scale and democratize access to obesity specialty care began.
However, the supply-demand imbalance is not the only challenge when dealing with the treatment of obesity. There is a huge treatment gap that needs to be addressed as well. Forer notes that less than 2% of people with obesity are medically treated according to guidelines. When comparing this figure to the number of people with diabetes that are appropriately treated, which stands at 86%, one can immediately notice the disparity. The reason for this is due to the shortage of specialists as well as the stigma surrounding obesity which makes people hesitant to seek treatment, if they are even aware of the option in the first place. Having this in mind, the team at Intellihealth views the education component around obesity, as a medical disease, as a fundamental foundation to what they are doing.
"We have a bunch of different audiences that we have to educate on these issues. To destigmatize obesity and look at it as a treatable medical condition, not as a lifestyle failure."

– David Forer, Brand Director.
The Solution
Intellihealth bridges the gap between behavioral lifestyle treatments and pre/post bariatric surgery. Understanding that there is not a one-size-fits-all solution to weight and obesity treatment, the team at Intellihealth stresses the importance of recognizing the multi-factorial physiological disease.
"Where it starts for us is on the patient-facing side and meeting the patient where they are in their weight loss journey."

– Sloan Saunders, CEO.
Looking at the patient-facing solution, those who are qualified for platform use are notified by email. They then receive a series of comprehensive health risk questionnaires to complete. The answers are combined with the integrated electronic health record (EHR) data which allows the platform's algorithms to personalize recommendations around nutrition, sleep, and exercise. The platform then leverages different tools to record those behaviors, such as food logging, activity tracking, and weight logging, which are all part of remote patient monitoring, a core feature in that it lets providers track patient progress and optimize their treatment plan accordingly while allowing the provider to also bill insurance for these interactions. As education is fundamental to what Intellihealth does, the patient also receives guided courses in behavioral lifestyle interventions.
Turning to the provider-facing portal, education is once again core to the efficacy of the platform. Clinicians work through approximately 15 interactive courses around medical management and medications for weight before being eligible to access the platform. After gaining access to the portal, providers are able to view specific patient profiles. Included in these profiles are recommendations for that particular patient. A distinguishing element in these profiles is the "medication decision support' feature. It suggests both FDA and possible off-label use of medications based on the underlying medical history, demographics, and other relevant data for the patient. The portal allows providers to make better-informed decisions in caring for and treating their patients even if they are not trained obesity specialists. Saunders suggests thinking of the provider portal as "clinical decision support or an obesity specialist in a box".
The Successes
Since the company's formation in 2017, Intellihealth already boasts many success stories. An important one being the launch of their Evolve platform in Spring 2020 and a recent JAMA study done at the Brigham and Women's using their original software platform. The platform's provider-facing portal enables providers to oversee all aspects of treatment and get comprehensive, real-time data on their patients, who access their customized treatment program through a corresponding patient-facing mobile app. Another benefit of the platform is that larger amounts of data are able to be analyzed to continue to refine their underlying algorithms as well as serving as a good foundation to scale from in the future. Success in adoption can be seen in several large hospital systems, payers, and pharmaceutical companies opting in to use the platform and partner with Intellihealth. On a more personal level, making a difference in the lives of their users' is considered a major success. Receiving feedback from patients on how their lives are changing, as well as doctors on how their patient populations are becoming healthier is extremely motivating for the team.
"When you start to actually get real stories of people that have had success using our platform and feel better, and there are doctors saying 'my patient population is healthier'. That is making a difference. That means something to us."

– David Forer, Brand Director.
The Future
When asked about what the future holds for Intellihealth, both Saunders and Forer state that the focus remains the same. Saunders affirms that their North Star remains the democratization and access to obesity specialty care. However, the future product focus is on automation and improving the efficacy of their current solutions. Forer adds that normalizing obesity care treatment as a regular part of people's lives is key to what they would like to achieve in the future. Gaining a holistic viewpoint of a person's life and being part of their long-term journey to health.
The Pitch
To learn more about Intellihealth's platform focusing on the treatment of obesity as a disease, watch their full pitch presentation from the HealthTech RapidConf: November on YouTube.
About The HealthTech Networking Club
Intellihealth is part of the HealthTech Networking Club, an invite-only networking club that connects key players in the Healthtech industry and provides private networking opportunities.
Become a member and network with Sloan, David, and startup leaders, consultants, investors, and healthcare providers. If your organization is a part of the HealthTech ecosystem, apply for an invitation to the HealthTech Networking Club here.
The HealthTech Startup Award session is part of the monthly HealthTech RapidConf events. Apply to pitch at the next HealthTech Startup Award in January. Send a mail to partner.us@benestudio.co with the subject line "Pitch Application".
Let bene : studio enhance
your digital product!