bene : studio is a global consultancy, helping startups, enterprises and HealthTech companies to have better product
Q&A with HealthTech Award Winner: Ready, Set, Food!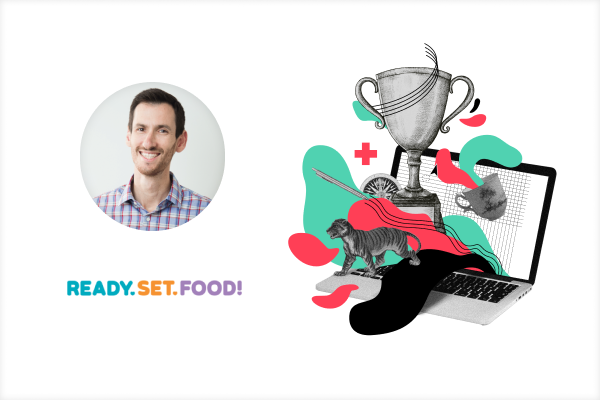 Interview with HealthTech Networking Club member and winner of the HealthTech Startup Award in March: Ready, Set, Food!. CEO and Founder Daniel Zakowski answered questions about the startup's beginnings, three-stage guided system, and preparing for Shark Tank.
Ready, Set, Food! focuses on early allergen introduction for babies with a system of easily mixed pre-measured daily packets to decrease the risk of developing food allergies as they grow.
The Inspiration
Q: Could you please explain how Dr. Andrew Leitner, Dr. Katie Marks-Cogan, and Daniel Zakowsi's experiences with family members and children with allergies inspired them to start Ready, Set, Food!?
A: Dr. Andy Leitner, Dr. Katie Marks-Cogan, and I came up with the idea for Ready, Set, Food! after Dr. Leitner's son developed multiple severe food allergies. There had been groundbreaking research that showed parents can help prevent up to 80% of the most common food allergies, and there were new medical guidelines from the American Academy of Pediatrics recommending that process, but many parents found it challenging to follow the guidelines for food allergy prevention. Based on our experiences with our own children, we knew how difficult it was to consistently feed that much food to babies, and in the clinical trials, more than half the parents dropped out because they found the process too challenging to comply with.

We knew that the only easy way to feed babies all of those allergenic foods would be through a bottle, so we worked with nationally recognized allergy experts like Dr. Jonathan Spergel, Head of Allergy at Children's Hospital of Philadelphia (CHOP), to create a product that would deliver the same process used in the clinical trials, but make it easy and simple for parents by mixing in with a baby's bottle. By basing our product directly on the clinical trials we know it's effective, and because it's able to be fed through a bottle we know that Ready, Set, Food! gives parents the easiest possible way to help prevent common food allergies.
The Solutions
Q: How did the three-stage product range develop?
A: Our three-stage guided system allows families to safely and easily introduce their babies to the top nine food allergens by mixing them into a bottle or food. Stage 1, which starts as early as four months, is designed to gradually introduce the top three allergens (peanut, egg, and milk) through a bottle, while Stage 2 provides continued exposure, an essential piece of the early allergen introduction process. For those babies consistently eating solids, Stage 3 offers continued exposure to peanut, egg, and milk, while introducing the other top six allergens, cashew, almond, walnut, sesame, soy, and wheat. Each stage implements pre-measured, easy-to-use, mess-free packets featuring organic and all-natural ingredients without any added sugar or additives, which can be simply mixed into breastmilk, formula, or food (depending on the stage) until your baby is regularly eating these foods over an extended period of time.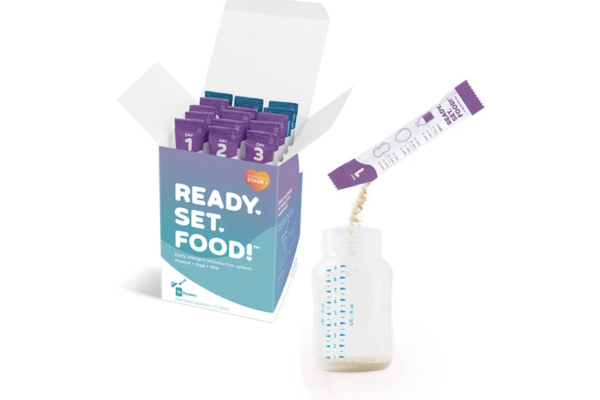 The Successes
Q: What do you consider to be the biggest success you've had since Ready, Set, Food! was founded, and why?
A: Recently, Dr. Jonathan Spergel and other members of our medical advisory board have been instrumental in helping to shape recommendations for the new USDA Guidelines for 2020-2025 and how infant food allergy prevention plays a critical role in helping to turn back the epidemic of food allergies. These new USDA Guidelines recommend that "potentially allergenic foods (e.g., peanuts, egg, cow milk products, tree nuts, wheat, crustacean shellfish, fish, and soy) should be introduced…to an infant's diet." Furthermore, the USDA Guidelines also recommend that for babies with eczema, "peanut-containing foods should be introduced into the diet as early as age 4 to 6 months." Our Stage 1-3 system not only follows these important recommendations but also makes it easy for families to follow these guidelines. We're proud to have been a part of this movement especially since the new guidelines have the potential to transform the lives of thousands of children and make a significant impact on the future of public health in our country.
The Future
Q: Where do you see Ready, Set, Food! in 5 years?
A: In the near future, we'd like to expand our product line and continue to innovate to advance our goal of keeping allergens as part of the diet for all children so that we can help hundreds of thousands of babies get the best chance at a life free from severe food allergies.
The Advice
Q: What advice do you have for founders on fundraising, going on Shark Tank, and building a B2C company?
A: Our investors have always been excited by the combination of the potential to create a very profitable business and also make an enormous societal impact by helping to prevent thousands of infants from developing food allergies every year. Since the science of food allergy prevention is so new, no company had yet created the right product to make it easy for parents to follow the new medical guidelines. Our patent-pending approach of introducing multiple allergens through a bottle offered to investors both an exciting business opportunity as well as an exciting way to save a lot of babies.
Our journey to Shark Tank was a whirlwind experience, from auditioning for Shark Tank all the way to airing on Season 11 and making a deal with Mark Cuban after months of preparation. My only suggestion for future Shark Tank entrepreneurs is: to have patience in the process and spend as much time as you can so that you feel 200% prepared going into the pitch. We were incredibly fortunate that 4 out of the 5 sharks loved our pitch but I truly believe that was because we had thorough and thoughtful answers to all of their questions.
The Pitch
To learn more about Ready, Set, Food!'s three-stage guided system helping prevent allergies in babies, watch their full pitch presentation from the HealthTech RapidConf: March on YouTube.
About The HealthTech Networking Club
Ready, Set, Food! is part of the HealthTech Networking Club, an invite-only networking club that connects key players in the Healthtech industry and provides private networking opportunities.
Become a member and network with Daniel and other HealthTech, Telehealth, or IoMT startup leaders, consultants, investors, and healthcare providers. If your organization is a part of the HealthTech ecosystem, apply for an invitation to the HealthTech Networking Club here.
The HealthTech Startup Award session is part of the monthly HealthTech RapidConf events. Apply to pitch at the next HealthTech Startup Award in May. Send a mail to partner.us@benestudio.co with the subject line "Pitch Application".
Let bene : studio enhance
your digital product!