bene : studio is a global consultancy, helping startups, enterprises and HealthTech companies to have better product
Telehealth Startup of October: Wellsheet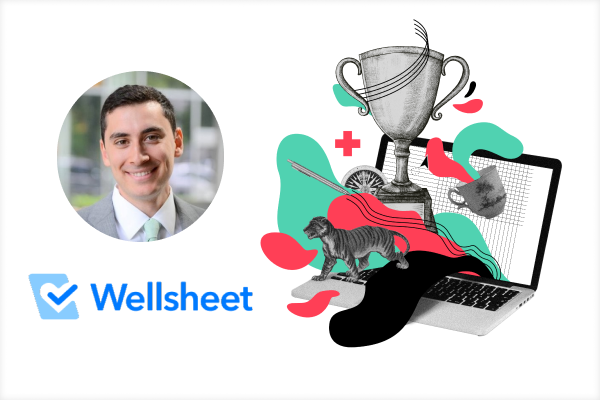 HealthTech Networking Club member and winner of the Telehealth Startup Award in October Craig Limoli, CEO and Founder of Wellsheet, spoke with the bene : studio team about what prompted him to start the company, their biggest successes so far, and advice for startup leaders. Alongside being the Telehealth Startup of October, Wellsheet is the first-ever company to receive a perfect score for their pitch at the Startup Award event.
Wellsheet is a predictive clinical workflow platform that changes the electronic health record experience by using machine learning and EHR vendor partnerships to provide curated information to fit the needs of clinicians.
The inspiration
While working as a strategy consultant in IBM's Watson Health division, Craig Limoli noticed that healthcare professionals were facing more difficulties with technology than other industries he consulted for. Noting the frustration felt by physicians and frontline healthcare workers when trying to do their job, Limoli was compelled to find solutions. One such area was the electronic health record (EHR) systems, which were often designed to meet regulatory requirements and resulted in a static experience for users. Taking into consideration the nuances in specialized care, Wellsheet was developed. An enhanced experience for physicians was created by leveraging the more widespread adoption of API integrations in EHR systems. Along with the use of cutting-edge analytics and machine learning algorithms to predict content about a particular patient that is curated and contextualized for the specific physician's needs.
"By having a better user experience, by getting physicians time back in their day, we can then ultimately have a better quality of care for patients as well."
Limoli says the company aims to be the number one way for physicians to interact with clinical information and make treatment decisions more efficiently. They intend to span across a multitude of EHR and have a cross-platform presence that ultimately unifies data over several systems. After achieving this with electronic health record systems, the company plans on targeting third-party data, from payers as an example. The end goal is an easily accessible, consolidated overview of a patient's medical history, created by removing the barriers to interoperability and the fragmentation of data across several clinical settings.
The Successes
Limoli acknowledges that in a healthcare setting, adoption of new technology is often met with skepticism. Especially when technology is implemented from top-down orders. However, difficulty in adoption seems not to be the struggle for Wellsheet. According to Limoli thousands of healthcare workers have already started utilizing the platform. This can be accredited to the fact that Wellsheet has chosen a less forceful route in implementation, as the technology is installed in the EHR as a tab that healthcare providers can utilize with other data in the EHR system. As well as the fact that the team-based functionality aids healthcare workers to more easily collaborate.

However, the biggest success that Wellsheet boasts is the impact it has on its clinician users during the pandemic. Especially in terms of providing real-time alert for results of COVID-19 tests in order to swiftly make decisions to best help patients and protect staff members. Limoli expresses that hearing about the impact and lives saved due to Wellsheet is their greatest achievement.
"There was actually a big spike in adoption for using Wellsheet because physicians and all frontline healthcare workers were under such strain and they needed to make really rapid decisions about patients in urgent time frames and they needed visibility to the right information across the entire hospital about how to best manage the resources and take care of patients."
The Advice
When asked about advice for new startup leaders the Founder and CEO offered 5 points.
Building the right team is what Limoli states as being the most important. The initial team shapes the course of the company and getting the first 10 to 15 hires correct is paramount. When making a hire, the skillset, mentality, and ability of the person to work in an ambiguous startup space should be considered. He adds that bringing in new hires on a consultant basis initially in order to determine fit was found to be beneficial for both parties.
The second point is understanding that entrepreneurship is difficult and that often times sacrifices need to be made. Therefore having a support network in place to guide and help through tough times is essential.

Linked to support, is Limoli's third piece of advice which is to find a mentor. Finding a mentor that has hands-on experience and can act as a sounding board when making strategic decisions is important, especially for first-time entrepreneurs. He states that Wellsheet found that in their first investor who actively provided guidance on early-stage company growth and how to navigate potential drawbacks.
"Seek out feedback, seek out constructive criticism of your approach."
Being determined to find a solution, while being receptive to feedback and being prepared to pivot is important. He notes that leaders should not get attached to a particular solution, because there will be at least one significant pivot in approach to address the problem they want to solve. When asked about notable changes in approach, Limoli stated that very early on in the company a big pivot was made from a patient-facing approach.
With that being said, he encourages founders to not be "dissuaded by the naysayers". Limoli acknowledges that there's a lot of negativity and rejection that founders face. His words of encouragement are to listen to the feedback, make adjustments where needed but ultimately keep your head up.
Limoli's advice for raising capital includes having results, starting small and proving value, and being selective about who joins your board as investors.

He explains that a misconception he had regarding fundraising was assuming that an exciting pitch is enough to persuade investors. While acknowledging that it does occur in rare circumstances, having traction and results is the best way to convince investors to support the business. As experienced by the WellSheet team, small scale success in order to prove value is an essential stepping block to larger investments. Lastly, Limoli states that being selective about the investors brought on to the team is crucial, similar to the building of the right team initially.
Their Pitch
To learn more about Wellsheet's predictive workflow platform, watch their full pitch presentation from the Telehealth RapidConf: October on YouTube.
About The HealthTech Networking Club
Wellsheet is part of the HealthTech Networking Club previously known as the Telehealth Networking Club which has expanded to include more companies making a difference in the healthcare space.
The HealthTech Networking Club is an invite networking club that connects key players in the HealthTech industry and provides private networking opportunities. Become a member and network with Craig and several other startup leaders, consultants, investors, and healthcare providers. If your organization is a part of the HealthTech ecosystem apply for an invitation to the Networking Club here.
The HealthTech Startup Awards session is part of the monthly HealthTech RapidConf events. Apply to pitch at the next HealthTech Startup Awards in November. Send a mail to partner.us@benestudio.co with the subject line "Pitch Application".
Let bene : studio enhance
your digital product!