bene : studio is a global consultancy, helping startups, enterprises and HealthTech companies to have better product
Telehealth Startup of September: cliexa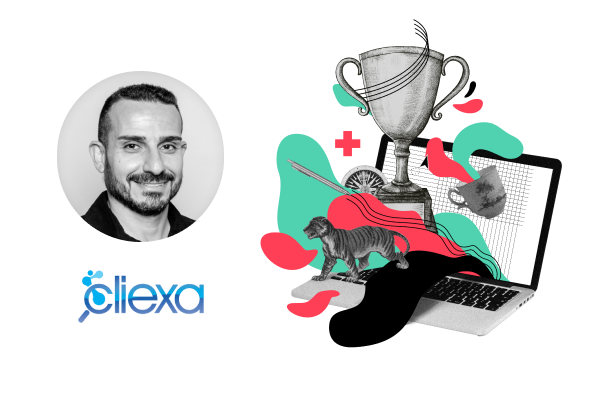 Telehealth Networking Club member and winner of the Telehealth Startup Award in September
Mehmet Kazgan, CEO and Founder of cliexa spoke with the bene : studio team. Kazgan speaks about the vision behind the company, challenges in the digital healthcare space, and 5 tips for startup leaders.
Cliexa is a digital health company focused on reinventing the management of medical conditions. The suite of solutions connects physicians, patients, and payors. It manages digital intake before and during doctors' visits as well as remote patient monitoring. All of this is done using patient-reported data to ensure that an improvement in clinical care and outcomes is seen.
Cliexa was named the Telehealth Startup of September for the pitch of their solution at the monthly Telehealth RapidConf event.
The Vision
The story behind cliexa starts with a simple goal of providing a better quality of life for patients. This goal was emphasized by Mehmet Kazgan, CEO and Founder of cliexa. Before founding cliexa, Kazgan worked in the healthcare insurance world and noticed a need for accurately collecting healthcare data. This need fuelled by the prevalence of technology led to the solution of providing a tech-based platform for patient-reported feedback and medical data.
"At the end of today, you're going to ask, 'How are you feeling? What are you feeling? Are you feeling better?' That's the quality of life."
Kazgan states that repeatedly getting feedback from patients on what is working or not working is essential to their goal. They also aim to create a simple way to create reference points and make data available for patient outcomes. By constantly monitoring the reference points, feedback, and data from the platform, physicians are able to better address patients' needs and thereby improve their quality of life.
The Challenges
As with any startup, Kazgan has faced his fair share of challenges. He discloses that promoting a change of behavior using Telehealth has come with some difficulties. However, surprisingly to most it is not on the patient side. Kazgan expected more resistance from the patient side but instead found that it was more difficult for clinicians to be converted to the platform. This is likely attributed to healthcare professionals being extremely busy and them preferring to rely on what they feel most comfortable with. He states that there is a slow shift towards digital healthcare and notes that the COVID-19 pandemic has had a silver lining in the increase in popularity for Telehealth solutions.
The Lessons
Before founding cliexa, Kazgan had been in senior technology leadership roles with several large organizations including Seagate Technology, Lionsgate, and has most recently been the VP of Engineering for Aetna in 2015. The five lessons Kazgan had for those moving from large corporations into the startup world include selecting the right team, having a plan B, strategically focusing, not reinventing the wheel, and being resilient.
"So absolutely pick the right team to work and get started and keep going."
Selecting and building a team that aligns with your core values and ideas is essential to growing a startup. Kazgan emphasized the importance of finding a team that supports the business' vision even though workforce retention might be difficult in the beginning. He likened the growth of the company to the story of Captain Cortés destroying his own ships on arrival in Veracruz. While knowing that your team has other options, finding those who will burn the ships with you and get to the island and keep moving forward is key.

The second most important lesson for entrepreneurs includes having a plan B. Noting that things can go wrong, having a fluid plan B that goes along with the changes in the company is necessary. Kazgan suggests to lay out a plan and then list what could go wrong. This helps with preparation in case change is needed. Having a contingency plan assists with building resilience.

"Resilience comes from like being ready for failure. So if you are ready for failure, you know how to get back up and get going."

Kazgan acknowledges that as being a startup leader, one becomes a swiss army knife needing to focus on several aspects of the business and constantly multitask. However, he suggests focusing on what brings the most value instead of attempting to accomplish several things at once.
"Try not to reinvent the wheel. Try to make things work better."
Instead of recreating something that has already been created, a focus should be on improvement Kazgan states that this is how one designs a platform, develops a product and puts it to market.

The last lesson but one of incredible importance as indicated by the frequent mention, is being resilient. The distinction between endurance and resilience is noted. Endurance is defined by Kazgan as how one keeps up with the challenges, stays standing, and continues doing what they're doing no matter what. On the other hand, resilience is defined as how fast and how many times one stands up again after falling, how one bounces back after failing. He adds that he knows it's a difficult task to keep standing up after falling down, but being positive is key.
Their Pitch
To learn more about cliexa's suite of solutions watch their full pitch presentation from the Telehealth RapidConf: September on YouTube.
About the Telehealth Networking Club
Cliexa is part of the Telehealth Networking Club. Become a member and network with Mehmet and several other Telehealth startup leaders, consultants, investors, and healthcare providers. If your organization is a part of the Telehealth or Telemedicine ecosystem apply for an invitation to the Telehealth Networking Club here.
The Telehealth Startup Awards session is part of the monthly Telehealth RapidConf events. Apply to pitch at the next Telehealth Startup Awards in October. Send a mail to partner.us@benestudio.co with the subject line "Pitch Application".
Let bene : studio enhance
your digital product!