bene : studio is a global consultancy, helping startups, enterprises and HealthTech companies to have better product
Telehealth Startup of September: LifeCuff Technologies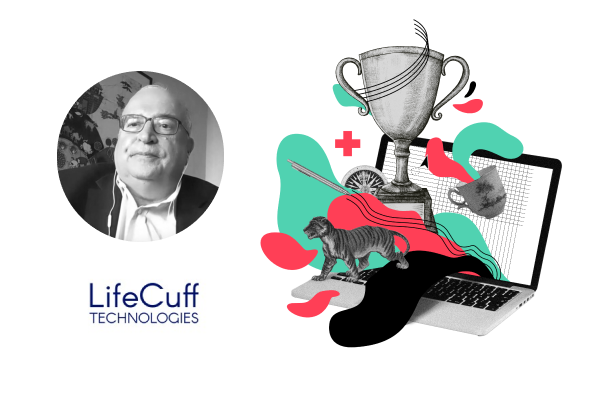 Telehealth Networking Club member and winner of the Telehealth Startup Award in September Thomas Moore, CEO of LifeCuff Technologies spoke with the bene : studio team about the vision behind the LifeCuff Technologies, their 5-year plan, and his biggest lessons as a Telehealth startup leader.
LifeCuff Technologies is a HealthTech company focusing on addressing the problem of diabetic wounds via the use of their The HomeCuff Wound Therapy Device. The device enables patients to administer simple, standardized, and cost-effective treatments in the comfort of their own home.
For the pitch of their product, they won the Telehealth Startup of September award at the monthly Telehealth RapidConf event.
The Inspiration
Tom Moore, accredits all major inspiration behind LifeCuff Technologies to Boris Leschinsky, Founder and CTO. After initially planning retirement Moore was introduced to Leschinsky via an investment banker who thought that a match could be made. And it was. After spending years in the healthcare and technology industries, Moore was attracted to the concept of working with technology that helps the body heal itself without introducing foreign devices or chemicals.
"The long term goal is to help the body heal itself without introducing foreign chemicals, foreign devices, foreign practices into the body."
The technology is able to help with recovery in a variety of areas including diabetic wounds, heart attacks, and strokes. This is due to the technology being able to help every cell in the body more efficiently use oxygen and therefore recover faster, with results that are from several international studies. Moore cites that one such study is from an academic institution in China with a 75% prevention of second strokes using device therapy compared to those using placebo treatment. The LifeCuff Technologies website references a continuing Tissue Conditioning study of diabetic wound patients by Dr. Matthew Regulski. The study started in 2018 and will have the final results published in late 2020. Even though the technology is considered an orphan, the company currently boasts 9 issued patents in the United States and 11 issued or pending internationally. Leschinsky being a patent agent gives LifeCuff Technologies a competitive advantage, says Moore.
The Future
The 5-year plan for LifeCuff Technologies is to be in at least three therapeutic markets. These markets include the treatment of diabetic foot ulcers and pressure ulcers and second stroke prevention. Alongside the launch of the device into therapeutic markets, focusing on compliance and Telehealth is a crucial element for the LifeCuff team. Behind the scenes, the communication of vital signs information and compliance information to the physician and an anonymized database will be focused on. Apart from market launch, creating awareness for a new standard of care is vital for the company in the near future.
"We need a better range of efficient low-cost and patient-friendly ways to return ourselves to that original healthy state."
The Lessons
Before joining LifeCuff Technologies, Moore was the CEO of two biotech companies and prior to that the President of Healthcare at Procter & Gamble. There is a large change from moving from being in a senior position at a large corporate to the startup world and the lessons learned can be applied to those shifting to starting their own business. The three key takeaways Moore includes are accepting multiple roles in the business, figuring out one's identity, and providing inspiration to your team.
When moving from an enterprise corporation to building a startup, you lose the amount of staff you work with. Instead of having several senior officers to research and implement ideas, one now has to take on the responsibility of those several roles due to the limited number of team members.
"You need to make sure that you provide the mistake-proofing and the perspective on how things get done. And of course, you have to roll up your sleeves and do it. The nature of any startup is everyone has to accept multiple roles to make it happen."
The second lesson, according to Moore, is that you need to figure out what your identity is and what you are aiming to achieve. Large corporations provide a name and therefore an identity, where even if someone doesn't know you personally they know what you do. Coming to the startup world more anonymity to a certain extent is gained and one needs to face rejection and hearing the word "No" more often, especially during fundraising. The importance of knowing one's identity is extremely helpful during these situations in order to move forward and claim ownership of who you are as a person.
The last lesson of providing inspiration for your team was illustrated by a story about a cathedral being built in France by two builders. The builder who was not performing as well saw himself as merely putting together bricks with mortar. The builder who was performing well saw himself as building a beautiful cathedral. This story highlighted the importance of maintaining inspiration for your team, about what you're going to accomplish. This is especially important as startups come with more risks than large corporations and the inspiration factor needs to remain high to keep team members motivated and focused on the long-term vision.
Their Pitch
If you want to learn more about LifeCuff Technologies watch their full pitch presentation on YouTube.
About the Telehealth Networking Club
LifeCuff Technologies is part of the Telehealth Networking Club. Become a member and network with Moore and several other Telehealth startup leaders, consultants, investors, and healthcare providers. If your organization is a part of the Telehealth or Telemedicine ecosystem apply for an invitation to the Telehealth Networking Club here.
The Telehealth Startup Awards session is part of the monthly Telehealth RapidConf events. Apply to pitch at the next Telehealth Startup Awards in October. Send a mail to partner.us@benestudio.co with the subject line "Pitch Application".
Let bene : studio enhance
your digital product!