bene : studio is a global consultancy, helping startups, enterprises and HealthTech companies to have better product
The Story of Modality.AI: HealthTech Award Winner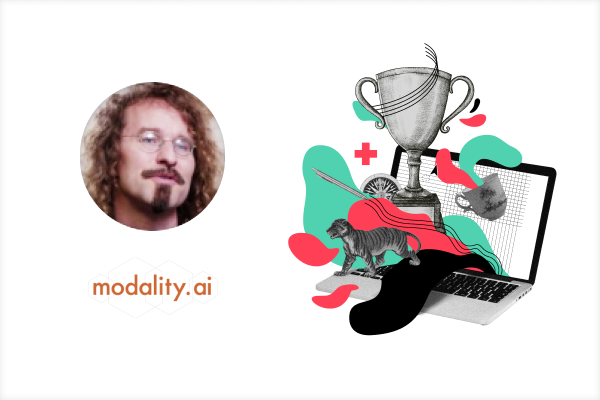 HealthTech Networking Club member and winner of the HealthTech Startup Award in January David Suendermann-Oeft, CEO and Founder of Modality.AI, spoke with the bene : studio team about what inspired him to start the company, their biggest achievements so far, and advice for startup leaders in the digital health space.
Modality.AI monitors patients' neurologic and mental conditions in the safety of their homes through multimodal conversational AI.
The Inspiration
While working in the speech processing and machine learning domain as the Research Director of Educational Testing Service, David Suendermann-Oeft noticed that these technologies used in the educational sphere were greatly needed in the medical space. As an active researcher and scholar, Suendermann-Oeft was aware of the clinical research landscape and how the use of speech processing systems, computer vision, and dialogue systems would be suitable in assessing neurological and psychiatric conditions. With the aim of applying those same technologies to the medical space, Modality was created.
The platform is centered around the idea of engaging a patient in a conversation with a virtual agent who conducts interviews and speaking exercises as if the patient was talking to a speech pathologist, neurologist, or psychiatrist. While the conversation is taking place, the platform is streaming the patient's facial and limb movements and speech responses into the cloud and is extracting speech biomarkers that correlate with and predict these neurological and psychiatric conditions' progression.
Clinicians can use the Modality platform for remote patient monitoring as well as in-clinic assessments and access patients' session evaluations in their physician-facing dashboard. With this information, they are able to monitor how a patient's condition is improving or deteriorating. The evaluations can also be inputted into electronic medical record (EMR) systems as proof of assessment and used for reimbursement purposes.
A Success Story
Suendermann-Oeft states that one of the most significant achievements for them has been collaborating with the non-profit organization EverythingALS, as well as MIT, Harvard, and IBM to scale the number of Modality platform users to over 100 within three months for a study focusing on the early detection and improved prognostic accuracy of ALS. He explains that ALS (amyotrophic lateral sclerosis) is unique, rare, and people die on average three years after diagnosis. Trying to recruit people with ALS to join a study through hospital cooperations is usually very difficult, resulting in limited sign-ups. This is why working with EverythingALS and utilizing their outreach and patient advocacy capacity has been a massive success for the Modality team. The study began in September 2020, reached 100 active participants in December, and has been growing 40% month-over-month since.
"We will ramp this up to over a thousand participants until this summer, which is going to be the world's largest audiovisual data collection for ALS."

The team's achievement in the study and plans to increase participation has resulted in them being accepted to present at the American Academy of Neurology's Annual Meeting in April 2021.
The Advice
When asked about advice for founders wanting to move into the AI and healthcare space, Suendermann-Oeft had advice for two distinct groups. The first is founders coming from academia, and the second is founders with business backgrounds.
The first piece of advice for founders from academia who want to start a company is to validate the market. He acknowledges that academic researchers are experts in their fields and know how to tackle problems in their specific domain. However, Suendermann-Oeft notes that solving an important scientific problem does not necessarily translate into a sustainable business, unless the market need is validated, a powerful business model is established, the competitive landscape is thoroughly understood, and there is a clear go-to-market strategy. To achieve this, he encourages academic founders to join an accelerator or incubator program (such as NSF I-Corps, Lean LaunchPad, Alchemist Accelerator, YCombinator, Creative Destruction Lab, etc.). Also, it is essential to perform a comprehensive customer discovery study to validate the founders' assumptions of the market.
"You need to call many, many people who may be your customers and identify whether they have a real pain point around what you're solving."
The next piece of advice for academic or technical founders is to investigate which specific type of funding is best suited for your company. There are several ways to fund a company, including bootstrapping, obtaining non-dilutive funding through grants such as SBIR and STTR programs, selling products or services early on, or raising angel or VC capital, all of which have their merits and challenges.
Another piece of advice to all founders is to be aware that it will be challenging to start a business but remember that you are not alone and perseverance is crucial. He points out that, for founders coming from academia, the transition into entrepreneurship will be the complete opposite of what they currently experience. Having a guaranteed job, set working hours, a good work-life balance where you can spend time with loved ones, as opposed to continuous uncertainty, financial risk, excessive workdays, and potential negligence of family and friends, and full responsibility for the success of the business, your team, and your shareholders. He acknowledges that entrepreneurs often suffer from setbacks in the areas of raising money, product adoption, creating partnerships, and finding customers. However, he reminds founders that many startup leaders struggle with these very same difficulties.
"It's going to be very depressing often. It's going to be mind-boggling for years. And just so that everybody knows, this is normal."

Lastly, Suendermann-Oeft reminds all entrepreneurs not to be distracted by news of companies going public or having large funding rounds. He emphasizes that these companies being highlighted are stellar examples but not the norm. He reassures founders that most companies will have to go through the startup process the hard way, but they will be successful in the end, if they persevere.
The Pitch
To learn more about Modality.AI's multimodal conversational AI system, watch their full pitch presentation from the HealthTech RapidConf: January on YouTube.
About The HealthTech Networking Club
Modality.AI is part of the HealthTech Networking Club, an invite-only networking club that connects key players in the Healthtech industry and provides private networking opportunities.
Become a member and network with David and other HealthTech, Telehealth, or IoMT startup leaders, consultants, investors, and healthcare providers. If your organization is a part of the HealthTech ecosystem, apply for an invitation to the HealthTech Networking Club here.
The HealthTech Startup Award session is part of the monthly HealthTech RapidConf events. Apply to pitch at the next HealthTech Startup Award in May. Send a mail to partner.us@benestudio.co with the subject line "Pitch Application".
Let bene : studio enhance
your digital product!