bene : studio is a global consultancy, helping startups, enterprises and HealthTech companies to have better product
Meet Walk With Path, HealthTech Award Winner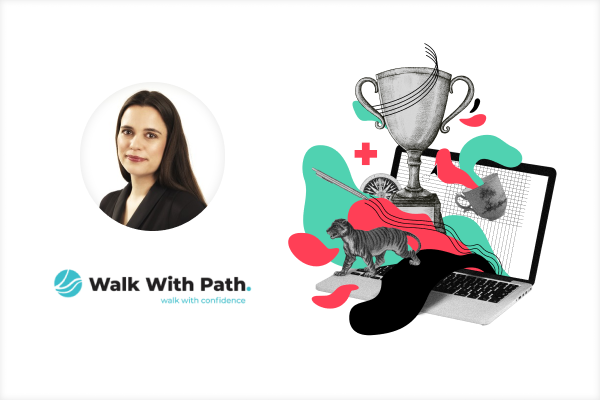 Learn more about HealthTech Networking Club member and December HealthTech Startup Award winner: Walk With Path.
CEO and Founder Lise Pape pitched at the 17 December HealthTech RapidConf to a panel of judges that included Gary Goldman (Global Health Impact Fund), Thomas Miller (Nixon Gwilt Law), and Balint Bene (bene : studio).
Walk With Path develops a range of mobility-focused wearables that focus on reducing the risk of falls in vulnerable individuals and improve their confidence when walking.
The Origin
Lise Pape and Florian Puech founded Walk With Path in 2014. The concept stemmed from Pape's double master's in Innovation Design Engineering from Imperial College London and the Royal College of Art and seeing Parkinson's disease's personal effects on her father. Noting that over 220 million people worldwide are frail and one-third of people over the age of 65 fall at least once a year, Pape and Puech sought to find a simple solution to help people with Parkinson's without any negative side effects like some medications may cause.
The Solutions
The first solution came in the form of Path Finder, a laser shoe attachment that was launched in 2017. The attachment aims to help people who suffer from freezing of gait. Freezing of gait, also known as freezing, is a symptom of Parkinson's disease where a person suddenly experiences that they are unable to walk or move the lower half of their body for a brief interval of time.
However, due to their upper body's momentum and trembling of legs when experiencing freezing, falls are a common occurrence. Pape states that approximately 70% of Parkinson's related falls are due to freezing. With no cure for freezing, healthcare providers often suggest the use of external signals to prompt movement. Path Finder uses visual laser projected cues to help guide steps while walking. The product already has about 500 users worldwide and is featured in several peer-reviewed journals and a clinical health economic study in the UK.
Still focusing on preventative measures related to falls Pape and the Walk With Path team is now looking to reduce imbalance with the use of an insole with vibrational feedback. Their new product aims to help people with peripheral neuropathy, sensory deficits, or who have balance issues. Peripheral neuropathy causes the sensation of weakness or heaviness, sharp pains, and numbness or tingling in a person's limbs, especially hands and feet. Often resulting from trauma to the peripheral nerves due to physical injuries, diabetes, alcoholism, or infections and autoimmune disorders. The product, Path Feel, is also aimed at helping those with multiple sclerosis or who have suffered strokes.

Path Feel aims to boost the sense of touch of feet to the ground using direct vibrational feedback. It helps people to more accurately distinguish the ground when walking, resulting in reduced imbalance and fall occurrences. The insole can be paired with the individual's smartphone app using real-time data collection to track progress easily and share this information with healthcare professionals. The application will also allow for personalized medicine suggestions. This product currently has a clinical study being conducted with the aim to launch it in 2022.

Pape explains that their solutions' impact on individuals is the driving force behind what they do. Seeing the effect that Path Finder has on the daily lives of people living with Parkinson's is the biggest accomplishment for the team.
The Future
As for the future of Walk With Path, Pape would like to develop the company into a leading mobility company in the medical and wellness areas. She states that in the next five years she would like to have laid the foundations for this growth.
When envisioning the future of healthcare, the shift towards a more personalized and patient-centric approach is highlighted. Looking at Telehealth's role during the pandemic and beyond, Pape expects even more advances in this field with new opportunities arising. She thinks it's an extremely exciting time for healthcare.
The Advice
Considering that obtaining approvals and generating evidence is a lengthy process, the CEO and Founder has three pieces of advice for those interested in entering the world of HealthTech and medical entrepreneurship. The first is to collaborate with people who are already working in your medical or HealthTech focal areas. The second point is to raise enough funding for the time necessary. Building a strong team who is in it for the long haul is Pape's final suggestion.
The Pitch
To learn more about Walk With Path's range focusing on reducing the risk of falls in vulnerable individuals, watch their full pitch presentation from the HealthTech RapidConf: December on YouTube.
About The HealthTech Networking Club
Walk With Path is part of the HealthTech Networking Club, an invite-only networking club that connects key players in the Healthtech industry and provides private networking opportunities.
Become a member and network with Lise and other HealthTech, telehealth, or IoMT startup leaders, consultants, investors, and healthcare providers. If your organization is a part of the HealthTech ecosystem, apply for an invitation to the HealthTech Networking Club here.
The HealthTech Startup Award session is part of the monthly HealthTech RapidConf events. Apply to pitch at the next HealthTech Startup Award in April. Send a mail to partner.us@benestudio.co with the subject line "Pitch Application".
Let bene : studio enhance
your digital product!