bene : studio is a global consultancy, helping startups, enterprises and HealthTech companies to have better product
5 lessons about Telebehavioral Health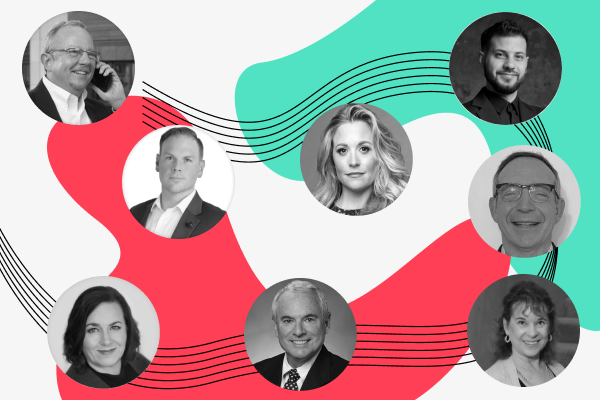 The December RapidConf event was live on December 17th with a panel discussion about another hot HealthTech topic: Telebehavioral Health. After the panel discussion, the December HealthTech Startup Award winner was named.
The monthly knowledge-sharing event series is organized by the HealthTech Networking Club. The invite-only networking club is a growing community for HealthTech startups, investors, consultants, suppliers, and healthcare providers and accepts applications from all areas of HealthTech including IoMT, Pharmatech, and Biotech to bring more valuable connections to its members.
If you are a HealthTech company and believe your organization can benefit from new connections and contribute to the community, apply for membership.
Learn more about the HealthTech Networking Club ›
The live event stream and video recording are viewed by approximately 10 000 people from the industry. View our next event in January. Subscribe to our YouTube channel and receive notifications about upcoming events.
The growth and changes in the telebehavioral health space were discussed by Lindsey Williams (Corylus Consulting), Arlen Meyers (SoPE), Pennie Sempell (StressPal), Mark Nolte (Start Talking), and Balint Bene (bene : studio).
Let's take a look at the five lessons learned from the panel discussion which are divided into two chapters.
The Ethical, Technical and Clinical Evolution of Mental Health Technology
Healthcare spending in the US reached 3.8 trillion USD a year in 2019. 96% of this amount goes to sick care. The digital health industry is set to bring more focus to preventive care which includes a mental health focus.
1. Are you developing a clinical or a wellness tool?
Different regulations apply depending on your product. If you are developing a clinical tool you face stricter regulations while releasing a wellness app is easier.
Studies show that out of 28 of the most popular mental health apps only 5 are evidence-based. In 116 apps helping with depression, only 4% were found acceptable in transparency and customer data protection.
2. Patient data handling and security are important
Connecting to point one, many wellness apps sell their customers' data. Low entry barriers to this space mean that many mental health apps have low-quality content and focus on the rapid growth of their customer base.
Finding a balance in growth and security is imperative to this industry because these apps can be popular among people who are not as savvy with regards to data protection. This could be a recipe for a big data-related scandal in the future which can hurt the whole telebehavioral health ecosystem.
Future Considerations for Innovators and Investors in TeleBehavioral Health
3. Huge companies like Amazon have been entering the space
How will your startup compete with the big giants entering the industry?

Not only are tech giants entering the industry but cable TV providers have been looking into offering Telehealth services through your smart TV. Startups face difficult times when they want to enter ecosystems that these big players influence, especially when value-based services migrate into healthcare. Many startup products are not designed for value-based services.
Our panel argued that startups' best bet is to find market niches that big companies won't cover in order to be successful.
4. Be prepared for upcoming regulations
Regulations are behind the industry development, but they will soon catch up. Many startups who don't tune in and follow regulatory developments may end up with a product that is not eligible for the market.
5. Consider the quality of content and user engagement
People, including your customers, are overwhelmed. They leave the doctor, but many of them won't follow the advice. Poor engagement and motivation can be turned around if telebehavioral care providers improve their quality of service and content.
Tech should extend clinicians toolkit and enhance the quality of care when doctors and patients are not meeting face-to-face. Technology is capable of doing this when it is founded on deep medical knowledge instead of superficial content.
HealthTech Panel discussion video
Watch the full event recording here. Leave a comment on the video, or if you are a HealthTech organization consider joining the Networking Club.
HealthTech Startup Award
4 startups pitched their product this month hoping to win the HealthTech Startup of December Award.
The session was moderated by Sandra Miller (Runway Innovation Hub) and the panel of judges included Gary Goldman (GHIF), Thomas Miller (Nixon Gwilt Law), and Balint Bene (bene : studio).
Pitching startups were:
Walk With Path, an IoMT startup with mobility-focused wearables
Qortex by MedSign, with a home-based TV Telehealth system
Age-At-Home, with an AI-powered system improving the wellness of elders at home
Softcare Studios, with a cutting-edge VR and tracking tool that supports the well being of patients
After each pitch, the judges scored the presenting startup on a scale of 1-5. Walk With Path won the HealthTech Startup of December Award after receiving the most points from the panel.
Join our next free event in January
The next HealthTech RapidConf will be live on January 28th and include a panel discussion that focuses on healthcare industry from the patient's point of view.
Panel discussion speakers include Chris Saxman (Nymbl Science) and Balint Bene (bene : studio). More speakers are to be announced, please follow the event page for updates.
If you are interested in viewing the HealthTech RapidConf: January, subscribe to our Facebook or YouTube channel for live event notifications or sign up for our newsletter here to receive news about upcoming events.
Let bene : studio enhance
your digital product!