bene : studio is a global consultancy, helping startups, enterprises and HealthTech companies to have better product
AI perspectives in web-based HealthTech projects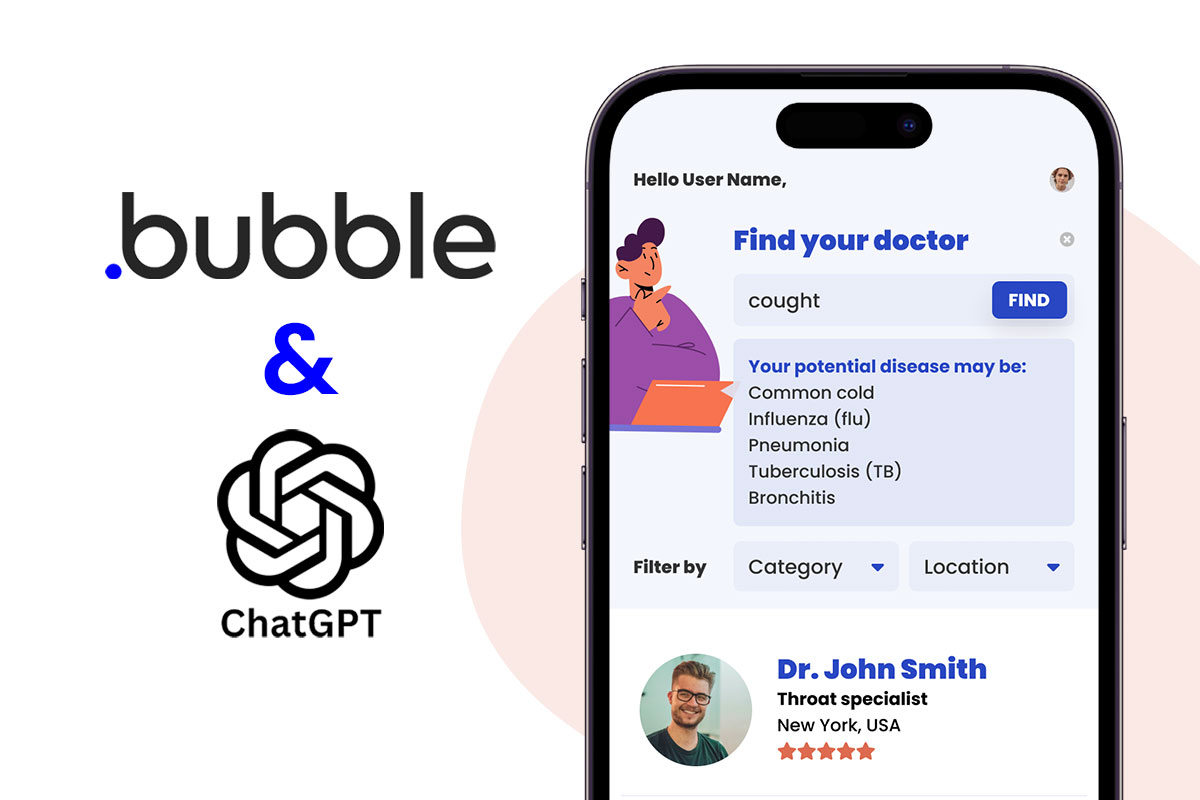 First of all, what is AI? 🙂
First of all, let's introduce what AI is. AI is short for Artificial Intelligence. Open AI's ChatGPT is currently the most popular AI platform. Open AI is an American startup founded by Elon Musk in 2015, and its largest investor is Microsoft. Although AI technology goes back several decades, it is only now finally receiving the public attention it deserves. With ChatGPT, we have reached a point in its development where we can use it regularly in our daily operations. This is an obvious sign that we can accept and live with this type of technology.
Despite this, AI is still a test project for its future. It is an excellent script package that collects data and provides a wide range of output. It can be used for obtaining information, generating images and sounds, and even writing code. Based on our current knowledge and technology, we can soon live in one of our favorite science fiction movies!
How can AI be useful for apps and web-based projects?
AI will change everything in the digital market and the entire digital ecosystem, and bring a lot of interesting aspects to how the user interacts with the interface and how to obtain information from these apps and UI. That is why everyone is currently focusing on artificial intelligence. It could rewrite how we think about an app and a user interface, and one thing is certain: it provides a lot of new factors for these technologies, as previously seen with the web and Google search system. Therefore, we must have at least some knowledge of AI.
From a user's perspective, AI offers more accessible input options than ever before. Users can receive an answer, image, code, sound, or whatever output they want with just one well-stated question. This presents many new aspects from a UX/UI perspective. Firstly, users may not need to provide as much input in the future. Secondly, users may focus more on sound- and text-based inputs. Thirdly, users may react faster to the interface. This will open up many upcoming segments, which may cause UI knowledge and trends to change completely from the current ones.
From a product perspective (but it also contains the user perspective, of course), we will focus more on solutions and less on problems. Perhaps we will have a different logic based on this technology for app development and database structure. This presents a great opportunity for brand-new development technologies in the near future, not just for new user experiences but also for new development technologies.
Whether AI is useful or not depends on how we use it. Our projects will succeed if we learn about AI and use it step-by-step. AI will bring new opportunities to all IT segments. If you see the potential inherent in AI but are uncertain about its use, we recommend that you learn more about it. This will enable you to discover AI's potential for your product. If you need help, we are happy to assist you!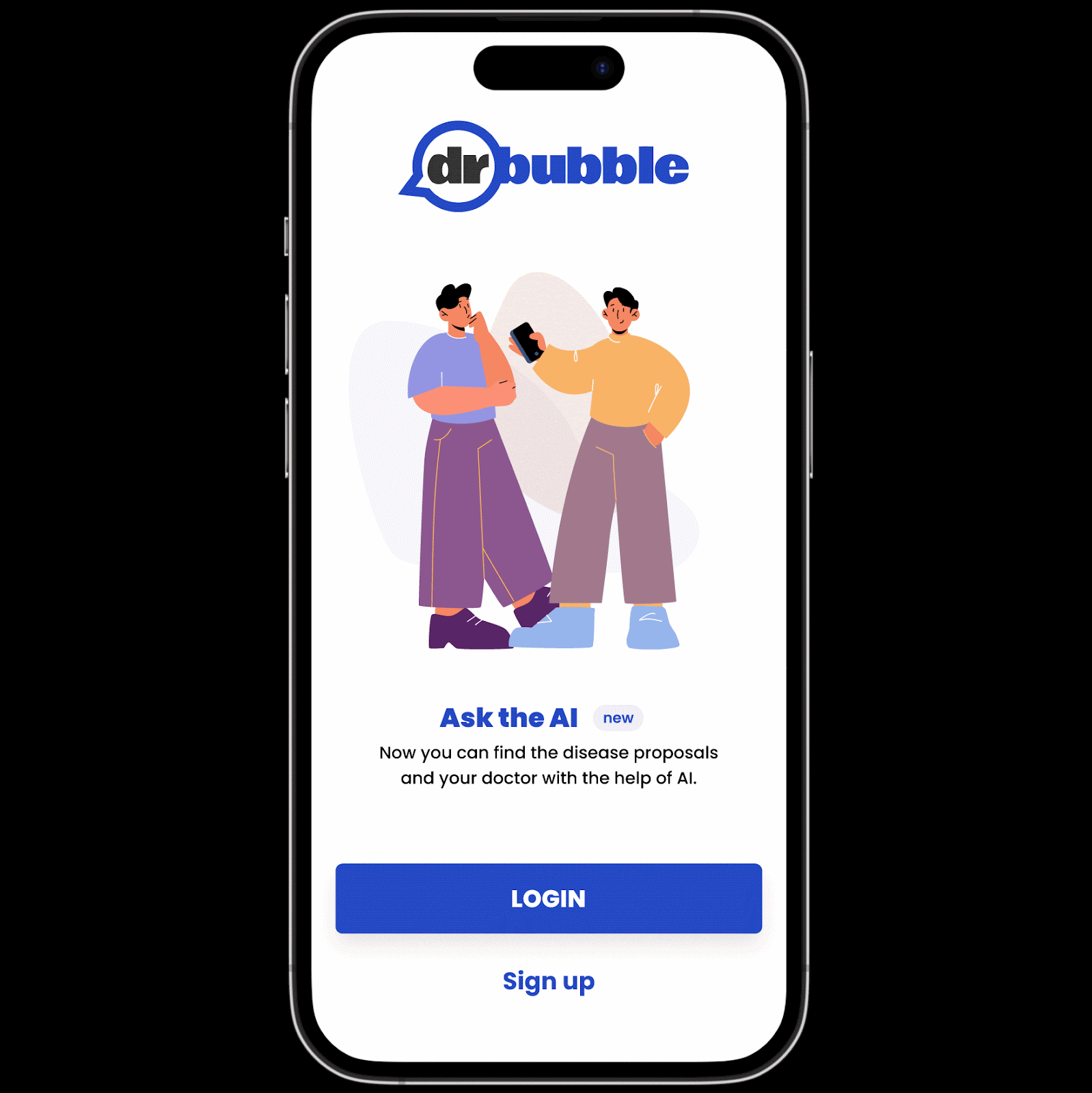 The Figma prototype. The entire project, including branding, Figma screens, and Bubble development were created by Bene Studio.
Illustrations made by upklyak (Freepik)
We tested it
Because of all these convincing reasons, we decided to test how AI works in real life. We updated our earlier Bubble.io project (you can read our earlier case study about this here) and made some changes to show and use AI. In this case study, we focused more on a product perspective (less technical) and tested how AI updated the UI and simplified the user flow.
The UX/UI perspective
Every technology is based on its predecessors. If we had never tried flying with two small wings, we would not know how to travel on a plane today. App and web usage are also based on earlier user flows. Reading a blog requires me to look at some aspects of classical reading (books, magazines). And the same applies to apps and web-based solutions, too. Today's UX and UI rules are built on a mix of classical advertising psychology, design, and typography knowledge with a part of development and product goals focus.
OK, but why is it relevant? Because current AI technology will change the current UX and UI rules. If we don't have enough information about our current technology, we won't make significant changes in the future. It's an evolution, and we are part of it. Knowing the history of current technology is part of where this technology is going. AI isn't creating a brand-new segment: it updates the current ones.
The first round of these changes may focus on user flows and rethinking some aspects of how the user uses an interface. We need fewer input fields and more information panels for visitors. As a result, there may be more significant changes: for example, users will not need this large amount of visual input and will have more space for audio and mind-based inputs. These give future opportunities and require a large scope for innovation, technology, and rethinking. As technology grows, so must we need to follow these changes.
The Product Perspective
In the future, we may need to pay more attention to the output and less to the input. Currently, we aim to design products that are easily usable on both mobile and desktop platforms, providing users with a wide range of functionality on a single screen. Everyone is familiar with the basic rules for adding, editing, updating, and searching for information, which are fairly consistent across similar product types.
Artificial intelligence has the potential to reduce the need for manual inputs in the future. This makes AI an extremely user-friendly technology, as the user only needs to ask for what they need. From this perspective, the future of product usage is more focused on the user, with an emphasis on understanding what their main questions are, rather than on how they use the product. Of course, we should note that we are not just talking about the more distant future, where the input sources available today may also evolve.
The development perspective
These changes also affect the development process behind products. Currently, AI is still in the development phase, but perspectives are likely to change in the future. The development options have not yet been fully clarified, but artificial intelligence can easily be integrated. These days, AI is not only helpful with integration but also with code writing. If the use case is more segmented, we will assess what is needed technically. It is very likely that AI-focused or AI-based tools will be introduced soon in development technologies.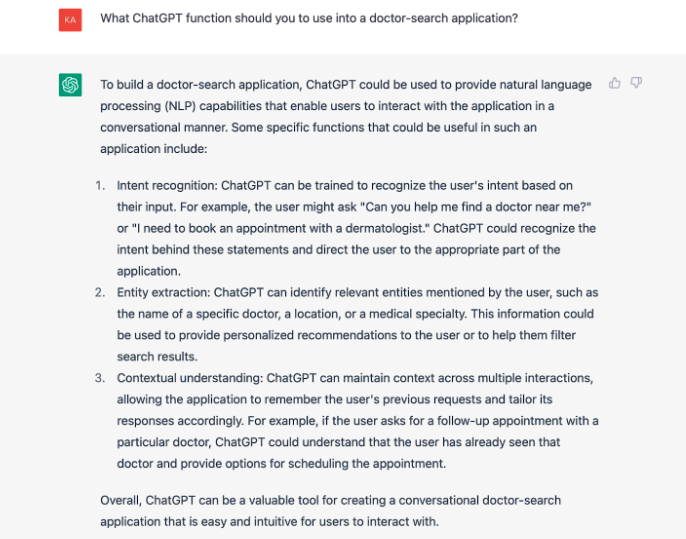 ChatGPT's answer to our "How to use himself" question
Dr. Bubble meets AI
To test this, we created an updated prototype using Bubble. We made some changes to our previous Bubble.io application, Dr. Bubble, which is a fictitious online doctor-finder tool that allows users to search for doctors and view their information.
In the test, we utilized ChatGPT in various ways. After designing the functionality and screens, we asked how ChatGPT would fit into a doctor-finder app and compared it with our own design.
Before testing, we pre-screened the questions and answers for the AI and collected the potential answers. Using these, we generated a symptom and disease list and asked the AI to generate a CSV file that we could use in our application.
We integrated ChatGPT into the doctors' list. The AI displays potential diseases and specialists based on entered symptoms and filters the list accordingly.
We also integrated the AI into the selected doctor's info card. Here, the AI calculates the distance and time required to travel to the selected doctor's location based on the user's and the doctor's location, and we show the relevant available reservation times based on this information.
ChatGPT in Our Test Project
Firstly, we redesigned the screens with some changes based on the updated, AI-oriented functionality. These changes are as follows:
We updated the doctors' list with an AI-based search field, where you can find doctors and potential diseases based on your symptoms.
We updated the doctor info page with an AI-based distance calculator based on your and the selected doctor's location, and we provide potential time recommendations for the reservation.
Update to Our Bubble.io Project
After this, we made a ChatGPT API connection using the Bubble.io API Connector and called the answers from OpenAI. We also created the front-end for these, so users can interact with the AI and update the results. The integration makes the ratio easy to use on Bubble. This no-coding tool offers a wide range of customized integrations and flows. Thanks to this, we can integrate and use our own API easily. Bubble offers up-to-date technology for current needs.
And finally…
We can ask AI to filter and search for doctors easily. ChatGPT is well-prepared, and Bubble is well-developed for integrations, and we can do it relatively easily. We need to plan, design, and develop a little more than the Bubble.io UI editor earlier.
The video-screen about the Bubble.io version. The entire project with branding, Figma screens and Bubble development made by bene : studio,
illustrations made by upklyak (Freepik)
This test case showed us how AI helps users achieve an easy user flow. With ChatGPT integration, visitors can search for doctors more easily than before, based only on their symptoms, and reserve a visit based on their location. In this case, we don't need extra input for these filters, and users don't need multistep filtering. Thanks to AI, it's easier to integrate, develop, and use. We followed this process with UX/UI, exploring the potential of this function.
Conclusions
In this project, we gained a larger perspective on AI and its potential for the technology, web, and apps market. We also learned more about Bubble.io use cases. AI is a game-changer for IT technology, and we are only seeing a part of it so far. It offers potential opportunities for products, user experience, and development. Bubble.io is great, and it has vast opportunities in today's technology, including AI. Product and UX/UI are always changing, and AI can make them faster. We used to rely on offline knowledge for online products, but now we use online knowledge in AI-oriented flows.
And about bene : studio: you can always count on us if you need expert help with any digital project (let it be AI, app, or any online platform).
Let bene : studio enhance
your digital product!