bene : studio is a global consultancy, helping startups, enterprises and HealthTech companies to have better product
Connecting doctors and patients with Medicall's telehealth service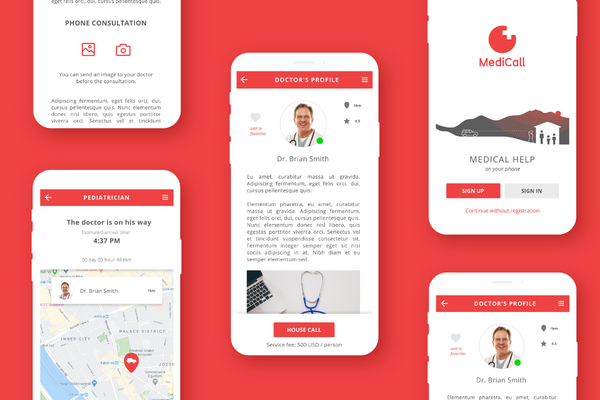 About Medicall
Starting as a solution for child care, Medicall imagined a way to connect available doctors to patients in real time. Medicall offers medical help whenever and wherever you need it: their innovative app acts as a bridge between patients and doctors, allowing you to get the medical help you need 24/7, no matter where you are.
Physicians can work through Medicall with a flexible schedule and part-time, as they can turn the service on and off, tailored to their personal availability. Patients can leave feedback, rate the registered doctors, and mark them as their favorites. They can even upload videos and photos and share them with their doctor, who can remotely analyze health conditions. As a unique technical solution, there's a way to connect to the platform via a phone line channel if you don't have access to the internet.
Medicall's second telemedicine service is similar but somewhat different: you can order a physician to your home after choosing a time to make an appointment while tracking their location real-time and having a live messaging feature in place.
Note: Our work on this project was completed in 2017. Some information on MediCall and its services may have changed since then.
The development of the Medicall platform
Medicall already had a clear vision and a ready business system. However, in parallel with all the bureaucracy of getting the necessary licenses and permits, we got involved in their planning, design, and development processes. We worked with continuous agile development with constant sprints to meet their business goals as effectively as possible.
We developed applications for both sides, the clients and the doctors, resulting in having two web admin systems – for doctors and admins – and two mobile applications created in React. We also took care of the design of the platforms, just as web advertisement and branding.
We built the backend with Amazon's cloud-based solution combined with Java technology and relational databases. Many subsystems have been integrated, such as the call center and payment system, Google Maps, and an authentication system allowing email, Facebook, and Google registration.
The principles of designing a telehealth system
Designing a telehealth system can be a daunting task, however, with the right approach, it can be a rewarding experience. The first step is to determine the system's purpose, such as providing remote patient care or doctor visits. Next, we must think about all the technology needed to build the system, such as a secure website, privacy requirements, implementing a teleconferencing software or any must-have integrations. Once the technology is decided, the system should be designed with user-friendly and secure features. It is also essential to consider the regulatory and legal requirements of implementing a telehealth system. Finally, any telehealth system should be tested and evaluated to ensure its security and effectiveness. By taking the time to consider all of these critical components, the telehealth system can be a successful and secure way to provide remote healthcare.
Summary
At bene : studio, we understand that clients are the experts in medicine, and we are the technical professionals who know how to implement solutions to turn their dreams into reality. With a team of experts and an in-depth understanding of the latest technology, we have the capability to provide clients with comprehensive telemedicine systems that meet their needs. We are the tech guys that make telehealth a success!
As a result of this collaboration, Medicall was able to deliver a convenient solution where calling a medical professional is right at your fingertips. If you need a professional late at night, just push a button and follow the doctor's location on your mobile phone until she arrives. You can focus on what actually matters, supported by a seamless, well-designed flow for your convenience.
Let's work together
Are you a team willing to grow, but struggling to find professionals with the proper commitment? Work with us with a flexible dedication that fits your needs and budget. bene : studio is here to help you!
Let bene : studio enhance
your digital product!