bene : studio is a global consultancy, helping startups, enterprises and HealthTech companies to have better product
DynamiCare: Patient-centered UX design in a rehabilitation app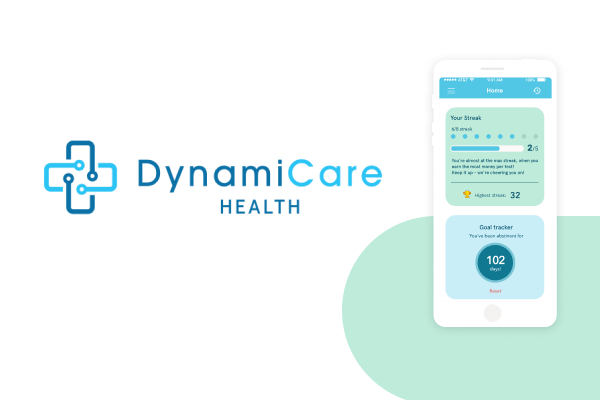 About DynamiCare Health
DynamiCare Health is a digital support program designed to reward healthy activities and help people quit or reduce the level of their addiction. The DynamiCare mobile app motivates users to keep abstinent and sober, giving incentives when patients pass tests that measure their use of substances.
How did the collaboration with bene : studio come about?
DynamiCare already had a working MVP for their application. They had recently received investment and were at the point where they had to quickly scale up. To achieve this, they needed to increase their capacity of professionals covering various skills. Like many other clients we worked with, they did not need full-time employees but wanted to use just the capacity that the tasks they foresaw required.
Quickly scaling up also meant that DynamiCare had to precisely address the needs of its users with its app functionality. Therefore, they looked for a team to ideate with on new features and upgrade existing ones that would best serve this goal.
Working with adjustable team capacity
We set up a squad of experts to ideate, prototype and implement solutions for DynamiCare, which is still operating today. The team includes developers, designers, QA (testers) and a project manager, with adjustable dedications. Adjustability enables us to always employ the right mix of expertise to perform a task, with just the amount of resources it requires.

We work in sprints, providing both effective deliveries of the approved feature needs and flexibility with the upcoming requirements. With regular meetings, async group chat, and tasks in Jira, we provide transparency and control.
New features with the users in mind
DynamiCare's goal is to encourage its users to use their mobile application frequently – via tools like gamification methods – so that the app can continuously help them manage their addiction and build an addiction-free life. It shouldn't be strict, but rather a welcoming, rewarding environment.
Let's see how this goal is reflected in our design approach and two particular feature updates!
A delicate work
Whenever we start working on an existing product, we pay attention to clarify expectations and goals with the client, so there's little friction with the work already done. In this project, we found it essential to absorb DynamiCare's knowledge of their target audience: people living through a struggle to overcome their addiction. Our design decisions needed to be guided by this specific context.
To make sure it happens, we chose a highly iterative process in the design phase, so as to validate our assumptions and test different solutions frequently.
Two faces of a streak
The first feature relates to measuring users' progress.
One idea to help users refrain from their bad habits was to display their progress using a progress bar. On top of it, the system can reward streaks. Streaks mean periods where the user performs certain tasks in the app day-by-day. One day of missing or failing these tasks reduces the streak score.
This method has the power to motivate patients and make their progress accountable. Yes, a progress bar also shows you if you perform poorly, which might cause frustration in some users. Such hypotheses can best be proven wrong or right if tested with real users in the mock-up phase, yet before development.
We first designed the progress bar and streak panel with more vivid colors, but as the app went through some iterations, we chose to make it resemble the visual elements that the app already used. It was a decision what to be consistent with: all gamification parts in the app used dark colors, while the main color tone of the application was light. We decided to stick with the lighter colors because the streak was the first element that the user met after opening the application and it seemed logical to make the first screen represent the application's overall look&feel. (see work-in-progress screenshots of the app with the original colors and with lighter colors)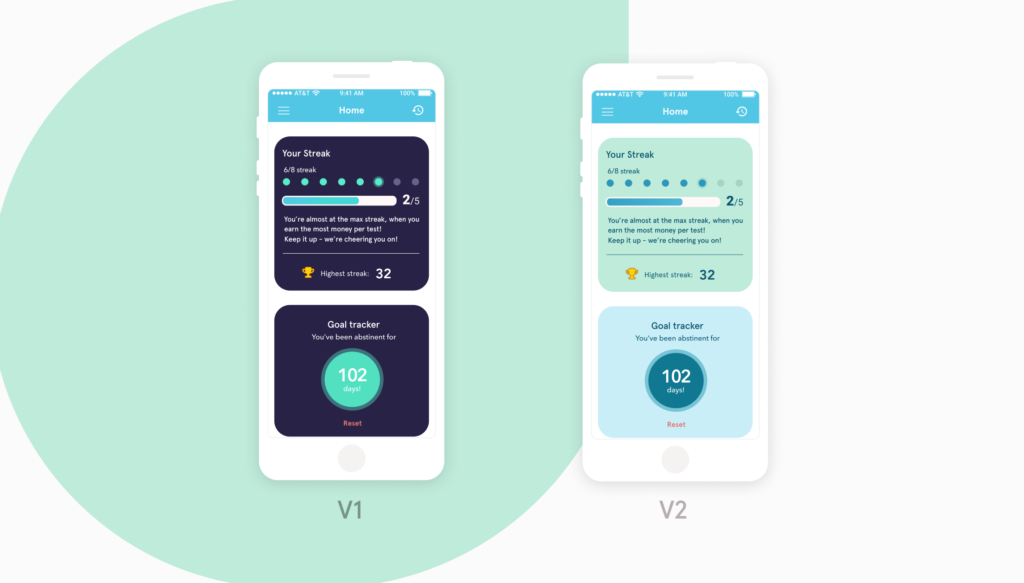 We also paid special attention to the messages we display when the user is not performing well. Considering the context – e.g. identifying a sudden deterioration after a period of good progress – can make these messages more accurate and motivating.
We also identified that it's harder to stay motivated if a streak/progress bar spans a long period of time, e.g. 60 days. We, therefore, divided the progress bar into smaller increments that made the feeling of accomplishment more frequent, and the overall goal easier to achieve.
Configurable wording
The other feature highlights the importance of proper wording when addressing a sensitive audience.
When we do wording for an application, we strive to keep it straightforward and familiar by using commonly known button labels, instructional texts, etc. wherever possible. When designing the Goal tracker – a function that counts the days the patient spent free from their addiction –, we faced a field-specific challenge: DynamiCare's patients were on different programs, and there was no fit wording for everyone. Our original plan was to call it a Sobriety tracker, as most similar apps do, but the word "sober" wouldn't have matched the goals of some other patients, let alone their preferences. Why is this word particularly important? Because it describes the very quality that the patient tries to achieve.
As we found no satisfactory word that covered all use cases, we decided to add an extra function to the goal tracker. When you set it up in the app, you can choose the word that fits best to your goal and taste. When picked right, this word has a better chance to stick in the patients' minds as a desirable outcome.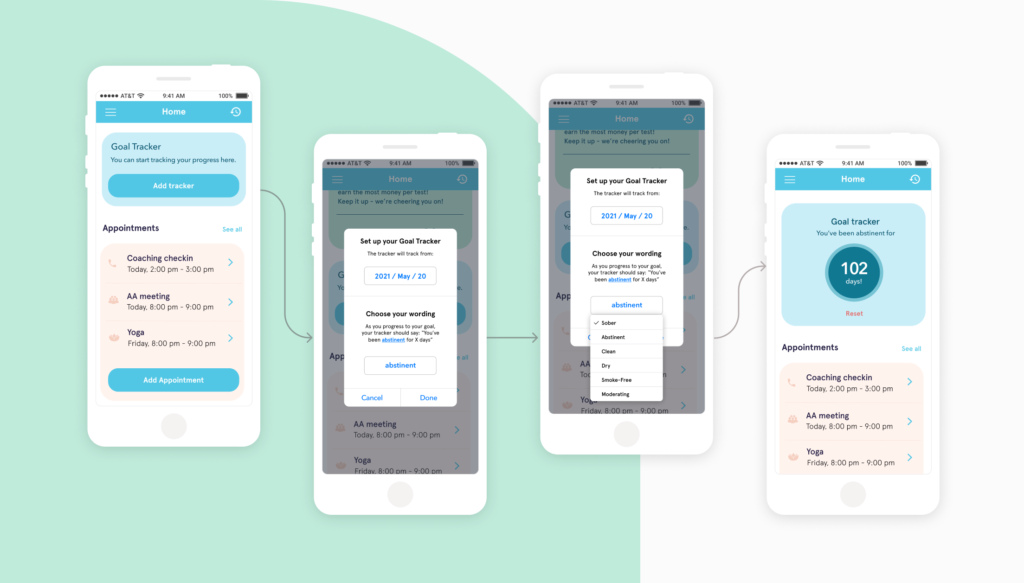 The outcome
After a few rounds of fixes and updates, the application has improved much and has become a welcoming and supportive environment for patients trying to kick their bad habits through DynamiCare. With our client, we have been continuously working on new functions, by revealing new pains and gains of our target audience, ideating, prototyping and testing our solutions with them.
"When you're thinking about the price of a developer in-house you have to take into account that it is not just the cost of their salary, but they have to have a manager, CTO, you need to spend on hiring, benefits, vacation time. Working with an external vendor that already has talented engineers saves valuable time, effort and money. We've been working with bene : studio to help us with our software development which has been a really great experience."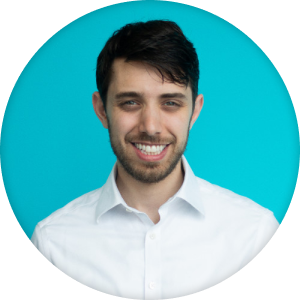 Eric Gastfriend
Founder & CEO, DynamiCare Health
The project in short
Key points:

Managing E2E software development for the client's applications from design to testing
Web and mobile technologies involved
US-based engineering team to support the HIPAA compliant infrastructure and handling PHI (Protected Health Information) data
Careful design and wording for a sensitive use case
Meeting 3rd party risk assessment requirements

Scope:

Design and implement new features, enhance existing functionalities (backend & frontend, web & mobile)
Localization (Spanish version of the mobile application)
PHI data management ensuring safe and secure operations
Design concept: flows, wireframes, UI
Mentoring client-side designer

Timespan:
June 2021 – ongoing
Team:
UX/UI Product Designer, Backend and Frontend Mobile and Web Engineers, Security Officer, Solution Architect, Project Manager
Technology:

Platform: Mobile and Web
Mobile: React Native
Web: Ruby on Rails
Backend: Ruby
Database: client-side HIPAA compliant
Integrations (3rd party apps): Mixpanel (analytics), HelpScout (helpdesk)
Chat: Stream
Customer feedback management: Alchemer (formerly SurveyGizmo
Testing: Automated and Manual testing
DynamiCare Health in the media
Learn more about DynamiCare and CM, the approach they use to help overcome substance abuse through technology in The Washington Post.
Watch DynamiCare founder & CEO Eric Gastfriend talk about technology challenges HealthTech startups face at our HealthTech Networking Club panel discussion.
Let's work together
Are you a team willing to grow, but struggling to find professionals with the right dedication? Work with us with a flexible dedication that fits your needs and budget.
Try us out, book a free consultation now!
Let bene : studio enhance
your digital product!