bene : studio is a global consultancy, helping startups, enterprises and HealthTech companies to have better product
Remarkable HealthTech Innovations in March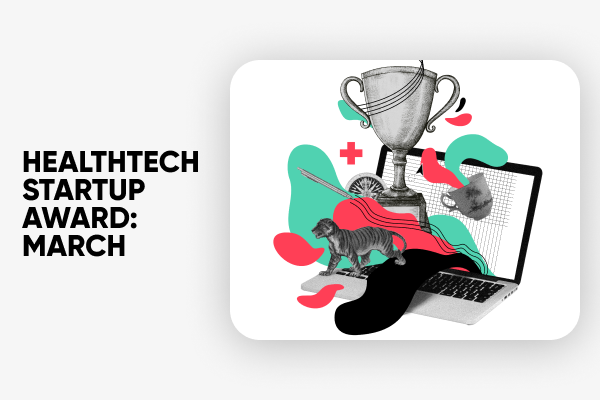 At the March HealthTech RapidConf, after industry leaders discussed the technology, intellectual property, and security behind strategic growth, 4 startups took the stage to compete at the HealthTech Startup Award to win a free Product Acceleration.
The panel of judges for the session included Dr. Orrin Ailloni-Charas (Global Health Impact Fund), Michael Koutsoudakis (Paulson Investment Company), Dr. Gary Goldman (Global Health Impact Network), and Balint Bene (bene : studio).
The winning startup wins a Product Boost and Product Acceleration service package from bene : studio, worth $2300, to enhance the design and development of their digital product. They also receive a one-on-one coaching session, courtesy of Runway Innovation Hub.
All startups that participated in the event receive a free Product Boost from bene : studio.
The events are organized by the HealthTech Networking Club, which connects startups, investors, healthcare providers, and other key players in the HealthTech industry providing private networking opportunities.
The HealthTech Startup Award participants
Stasis Labs

Stasis is a cloud-connected patient monitoring platform that collects data and delivers information to clinicians in order to to keep at-risk patients safe. Founded in 2015, the platform is FDA cleared and aims to reduce adverse events and the cost of care.
Founder and CEO Michael Maylahn explained that growing up he was shocked how much your socio-economic class and geography defined your access to healthcare. The idea of Stasis came about in 2012 to democratize access to health. Their platform connects patients with clinicians, enabling moving care to lower acuity settings, monitoring from hospital to home, and patient information delivered anywhere.
The platform consists of monitoring equipment and devices, a cloud service to analyze data and apps and API integrations to deliver results. Stasis targets the outpatient market, which is expected to grow by 12% annually, while currently there are 35.8m procedures done on an outpatient basis every year.
Currently 40k+ patients are supported by Stasis with 75+ paying customers. They are raising USD 2 million for expansion.
Judge Balint Bene praised the product and wanted to learn more about the competitive landscape. Maylahn explained that there are similar hospital-grade systems, but they require a large investment in infrastructure and implementation. Stasis can be deployed in less than a day.
Dr. Gary Goldman loved the presentation and the fact that the company is FDA approved already.
Arete Medical Technologies

Arete Medical Technologies focuses on treating chronic diseases by creating preventative and personalized digital health products. Primarily focused on chronic lung conditions, Arete Medical Technologies is developing a multi-test diagnostic and monitoring device to improve healthcare efficiency and patient outcomes.
Founder and CEO Dr. Graeham Douglas introduced their product that brings different devices into one, saving 90-95% of the cost and helping to prevent attacks. Currently, quality data that is predictive and actionable is stuck in clinics and Arete aims to bring the data to patients' respiratory space for daily self-management. Something that has been already done with many other chronic diseases.
Following the judges' questions about AI, Douglas explained that the system is able to detect deteriorating conditions days before the patient starts to feel sick, based on statistical analysis rather than machine learning. They see AI and machine learning as the next step along the way when they have the necessary quality data to support that. Their business model is selling to payers with an upfront fee and a monthly subscription fee. Arete, with its base in the UK, already received about 2.5 million government grant to date, and have extensive partnerships in the EU, is looking for pulmonologists in the US to understand that market better.
Welfie

Welfie is a school health platform focusing on centering school health around students by equipping K-12 schools to deal with mental health issues and COVID-19.
Dr. Steven C Moyo pitched the company with a mission to empower families to engage with care earlier and more often as American families are sicker, dying younger, and paying more, especially families of color.
They focus on self-care via personalized content, communities for support, and services to address social determinants of health. These are driving cost reduction for payors and insurers. Welfie targets the USD 375B market, with 54 million enrolled people.
Welfie is currently raising USD 1.5 million to exceed milestones by January 2023.
Judge Dr. Orrin Ailloni-Charas gave great feedback to learn from: "In the presentation, you should have talked more about technology that you are raising money for, and ways on how you want to scale it.". According to Orrin and the rest of the judges, the concept itself is great, but as an investor, they need to know more about the tech and growth plans.
Ready, Set, Food!

Ready, Set, Food! focuses on early allergen introduction for babies with a system of easily mixed pre-measured daily packets.
The idea came after one of the founder's sons developed multiple severe food allergies.
"There had been groundbreaking research that showed parents can help prevent up to 80% of the most common food allergies, and there were new medical guidelines from the American Academy of Pediatrics recommending that process, but many parents found it challenging to follow the guidelines for food allergy prevention." – Zakowski explained.
Everyone says to introduce babies to allergens early on, but Ready, Set, Food! showed the way how. Their patented system offers food packets that can be fed to babies through bottles.
The startup has achieved USD 2 million run rate, 3.5% revenue growth and 20 000+ families helped in 2020.
Answering questions from the judges, Zakowski explained that medical guidelines say that every baby should be included in such a program, not just the ones with a family history of allergies. The only segment they don't have products for yet is the babies with stay-at-home moms who stick to breastfeeding and won't use bottles where their product can be used. This segment represents only 5% of the market.
Their business model is similar to any e-commerce company, selling directly to the customer. In the future, reimbursement could be an option since allergy prevention saves a lot of money in the long run for the healthcare system.
After watching all 4 pitches, the judges decided to award the HealthTech Startup of March to Ready, Set, Food!
Read our Q&A with CEO and Founder Daniel Zakowski.
Watch the startups deliver their pitches
Join the next HealthTech RapidConf
Visit the HealthTech Networking Club page to learn more about the upcoming events and if you feel your HealthTech organization could contribute and profit from the connections with startups, investors, suppliers, consultants, and healthcare providers, consider applying.
Apply to pitch at the next HealthTech Startup Award. Send a mail to partner.us@benestudio.co with the subject line "Pitch Application".
Let bene : studio enhance
your digital product!