bene : studio is a global consultancy, helping startups, enterprises and HealthTech companies to have better product
These 4 HealthTech Startups Are Amazing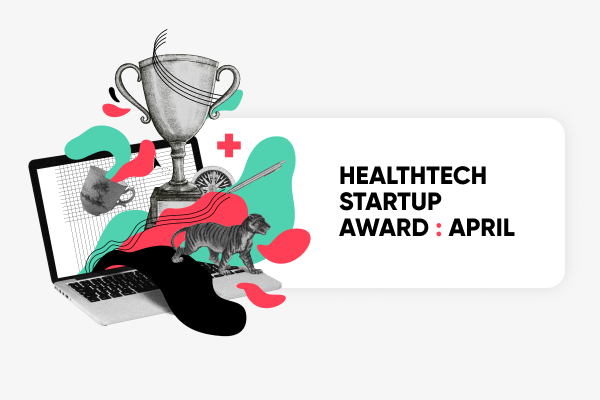 At the April HealthTech RapidConf, after industry leaders discussed how telemedicine is transforming care, 4 startups took to the stage to compete at the HealthTech Startup Award to win a free Product Acceleration and be named the HealthTech Startup of April.
The panel of judges for the session included Chris Saxman (Nymbl Science), Dr. Edgar-John Vogt (German Accelerator), Dr. Gary Goldman (Global Health Impact Network), and Balint Bene (bene : studio).
The winning startup wins a Product Boost and Product Acceleration service package from bene : studio, worth $2300, to enhance the design and development of their digital product. They also receive a one-on-one coaching session, courtesy of Runway Innovation Hub.
All startups that participated in the event receive a free Product Boost from bene : studio.
The events are organized by the HealthTech Networking Club, which connects startups, investors, healthcare providers, and other key players in the HealthTech industry and provides private networking opportunities.
The HealthTech Startup Award participants
Drift Biotechnologies

Drift is a SaaS company with microbiology genetic sequencing software, that is easy and fast. Its goal is to improve testing performance in biotechnology.
The software enables the uploading of sequence files to the cloud from any sequencer and it maintains and updates the reference database which then becomes accessible via API or dashboard. Drift offers many kinds of analysis including short and long reads, shotgun metagenomics, amplicon analysis and offers several additional modules like drug resistance, outbreak data with predictions and visualizations. The main benefit is that people do not have to hire experts anymore to make sense of their data, founder Evan Zimmerman explained.
They claim to be ahead of competition with their ease of use and proprietary infrastructure.
Answering judges' questions Zimmerman explained that their customers would be clinical labs, CROs, and relevant startups who actually conduct tests. The market size is determined by the number of tests that are conducted, which is currently around 2.5b / year considering there are roughly 20 000 labs in the US.
Medicalcooling

Medicalcooling intends to save the lives of stroke and reanimation patients with their medicalcooling ventilator, which enables therapeutic hypothermia to be portable and more user-friendly
CEO Fabian Temme explained that for patients with topped hearts survival rate is only 9.1% and with time passing during reanimation the likelihood of brain damage increases. Cooling the brain increases the survival rate to 24.4%. However, in Germany, where the startup is from, very few patients are cooled in the hospital.
They designed a 5 in 1 device for ventilating, cooling, and monitoring, which would replace existing ventilators. The method already has a clinical validation published and has 570k EUR granted for research.
Dr. Gary Goldman, who is an anesthesiologist said in his feedback that he was excited about the product but wanted to know more about who would actually buy the product. Temme said the device is for ambulances mainly, therefore governments are the target.
USCHAG

U.S. Consumer Healthcare Advocacy Group (USCHAG) is a leading health and wellness startup portfolio company.
Focused on empowering American consumers with an increase in control over their health and wellness through informed data-driven insights. USCHAG utilizes the power of artificial intelligence, machine learning, and quantum processing.
Represented by founder Heather Logrippo, USCHAG identified 4 problems in healthcare: high costs, low health literacy, uneven playing field, and impersonal relationships.
They intend to address these problems by offering a personalized advocacy platform with no barriers for entry for a 4 trillion USD market. Their revenue model consists of a low-cost subscription (9.99 USD/ month) plus add-ons with value i.e. % of medical bill savings.
Their ask is 750,000 USD to get to a minimum viable product with 500 paying clients.
Judges asked for an example of how the startup can help patients. To that Heather Logrippo explained that in their beta they helped a patient get a hip replacement 90% covered by insurance instead of just 30% they had in the beginning.
iPill Dispenser

iPill Dispenser is a digital health hardware innovation designed to improve prescription adherence and reduce opioid diversion and abuse through a secure dispenser and mobile application. The dispenser and app ensure that the prescribed person has access to opioids at the prescribed dose, safely disposes of unused opioids, and monitors patient respiration.
"For the past 28 years as an anesthesiologist and chronic pain management physician, I would write opioid prescriptions for pain. Patients would often return to the clinic to get more opioids. They were not taking them as prescribed. I could not monitor their medication adherence to opioids at home so I created the iPill. Using the iPill means that only the patient prescribed can access the opioids at the prescribed dose and time." – Dr. Hsu explained.
The product is currently FDA Class I. 510k exempt, meaning it can be marketed. Down the road, they seek approval for a Class II. with respiratory biosensor monitoring the patient and can call 911 and stop opioid dispensing if in respiratory distress. CMS announced reimbursement for these Class II. solutions, making iPill the only product on the market that can benefit from this.
The product has 3 granted patents, it is very easy to manufacture and can be used with many other addictive drugs making it viable for a large market.
iPill costs 50 USD / unit, leading to a 9.2 billion USD sales opportunity look at the annual opioid scripts in the US. Their ask is for a 1 million USD funding for a human factor study.
After watching all 4 pitches, the judges decided to award the HealthTech Startup of April title to iPill Dispenser.
Read our Q&A with CEO and Founder Dr. John Hsu.
Watch the startups deliver their pitches
Join the next HealthTech event
Visit the HealthTech Networking Club page to learn more about the upcoming events. If you feel your HealthTech organization could contribute and profit from the connections with startups, investors, suppliers, consultants, and healthcare providers, consider applying to the club.
Let bene : studio enhance
your digital product!