bene : studio is a global consultancy, helping startups, enterprises and HealthTech companies to have better product
This is how we build a healthy & safe company culture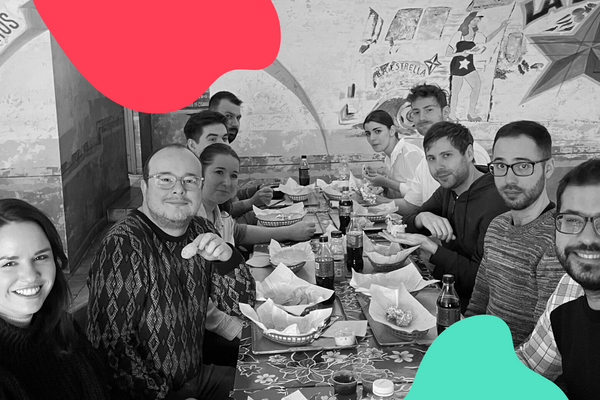 At bene : studio, we recognize that having a strong and positive company culture is the number one key to our success. We can be a trusted developer agency for our partners if we create a healthy and supportive work environment for our colleagues. Making our teammates happy is just as important as satisfying our partners' needs, as at the end of the day, it's our team that makes our success possible.
To maintain and build a great company culture, we use multiple different tools and practices on a daily basis. We're striving to get better, constantly asking for our team's feedback, and seeking new ways to be an attractive workplace. Besides our management doing everything in their power to make the company a great place to work, they also expect our teammates to do their best to help bene : studio succeed.
Throughout this article, we discuss the techniques of how we're maintaining and developing our company culture.
1on1s
1on1 meetings are the foundation stones of any company's culture as they allow for direct communication between managers and employees. Through these meetings, leaders can better understand the needs and goals of their team members, foster a sense of trust, and ensure that everyone is on the same page. Additionally, 1on1 meetings provide a platform for employees to openly discuss any issues or concerns they have, express their ideas, as well as receiving and providing feedback. As a result, 1on1 meetings can help to improve employee engagement, productivity, and ultimately, the overall success of a company.
At bene : studio, we currently have bi-weekly and monthly 1on1 meetings, depending on our teammates' unique needs and positions.
Team building events
It is important to us to bring team members together in a relaxed atmosphere and to encourage informal communication within the team. By frequently organizing team gatherings, members can become more comfortable with one another, build trust, and even friendships. At bene : studio, we think that team building events are also a great way to reward our employees while also providing a break from our usual routine, helping us to relax and have a great time together. These occasions can also provide a sense of unity and shared purpose, which can ultimately lead to better collaboration and improved workplace morale.
And what a typical team event looks like at our studio? We're huge foodies, so we usually go out for lunch or dinner, or have an English breakfast in our office. We often have office parties with our favorite drinks and snacks, play board games, order donuts, or go to the cinema. To include everyone in the team, we organize virtual team building events too, where we play Pictionary and other games.
Donut and Slack
We love having a dedicated Slack channel for internal community building where we can post random photos, funny moments, answer watercooler questions, and chit-chat about anything we wish to. Providing a warm and safe environment where everyone has the chance to express themselves is vital in our company's life. We recently implemented an awesome app called Donut that randomly organizes short coffee break meetings for our teammates where they have the chance to get to know each other.
Next to having some fun channels, we prefer using as few Slack channels as possible, as we're nurturing a silo-less environment where information flows transparently among team members.
Culture Handbook
A Culture Handbook is an important document that outlines the values, beliefs, and practices that shape the culture of an organization. It serves as an informative guide to employees, helping them understand and embrace the values, behaviors, and expectations of the company. Bene : studio's Culture Handbook helps to create a unified and consistent organizational culture and it's a living document continually shaped by our history and team members.
Public praises
We recently introduced public praises in a dedicated Slack channel. Why do we think public recognition is important? It's a great and easy way to boost morale and show appreciation for a job well done. It encourages team members to put in their best effort, and it fosters a strong team bond by cultivating a sense of belonging and accomplishment. It also helps to increase motivation, as team members feel appreciated by their peers for their hard work and contributions.
Weekly team meetings
Without our weekly team meetings, we couldn't stay on top of our goals, and it'd be a lot more difficult to ensure transparent communication. With our weekly Studio News meeting, we're always on the same page and fully informed about our ongoing projects. We get a sneak peek at technical details of certain projects at our weekly Studio Demo, and we learn from each other by presenting different programming solutions. Regular team meetings give us the opportunity to discuss any potential obstacles that may come up and develop strategies to overcome them collectively. Furthermore, they provide us with the opportunity to brainstorm new ideas, recognize successes, and encourage a sense of camaraderie in our team.
Birthday and work anniversary celebrations
Birthdays and anniversaries are important occasions to celebrate within a working space as they help to create a strong sense of community and connection among co-workers. We at bene : studio like to celebrate milestones too, let that be in terms of the company or an employee. It is important to show attentiveness and appreciation towards those who help us reach our goals. Whether it's an afternoon celebration with cake and coffee or a full-fledged dinner with delicious meals, these gatherings can help to build team spirit and foster closer relationships.
BENE STUDIO IS HIRING! 📢 This is an amazing opportunity for anyone looking to join a creative and innovative team focused on the HealthTech industry. We offer a friendly and healthy work environment, competitive salaries, and great benefits. If you're looking to take your career to the next level, check out our openings now!
Let bene : studio enhance
your digital product!