bene : studio is a global consultancy, helping startups, enterprises and HealthTech companies to have better product
Six reasons why we love working at Bene Studio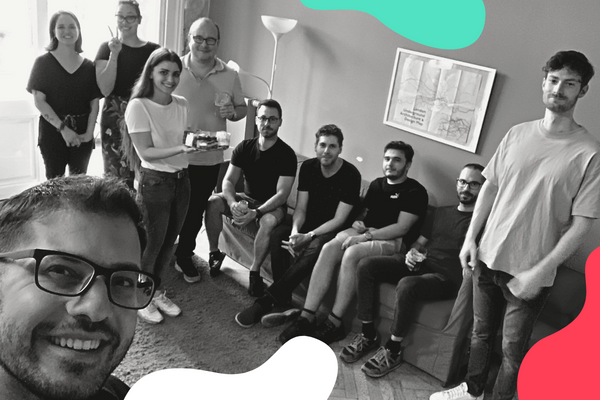 As a development agency, we have one mission: improve our clients' mobile and web apps with the expertise and in-depth knowledge we gained in the past ten years. We're all in this together and hungry for more: we're continuously looking for new talents to hire at bene : studio. We want to keep exploring new opportunities and take on new challenges together. Let us give six reasons why we'd like to encourage you to join our team!
1. Passion and dedication to all things tech
We're a development agency with a history: we helped 100+ global enterprises and early-stage startups over the past ten years, and we have a diverse portfolio of different tech projects. We're offering a full-stack development service, and we're always eager and excited to find a solution to complex challenges. As a matter of fact, challenges keep us on our toes and keep us growing. We're working with cutting-edge technologies like React.js, React Native, Flutter, Python, and Node.js. Next to working on tech projects, we love reading and discussing the latest tech news as well – that's why our #tech_life Slack channel is one of our favorites!
2. Continuous learning and knowledge sharing
Our main office is located in the heart of Budapest, Hungary, and most of the developer folks living in the city have visited us here at some point. Why? We're well-known for organizing engaging workshops and meetups on various engineering topics. Sharing knowledge is one of the essential components of our culture. We love supporting our employees, the whole community of developers, and our partners with the knowledge we have acquired. We usually invite the coolest product companies to collaborate, like Prezi, Wise, and Bitrise. Our devs are always encouraged to participate in the workshops as facilitators and present insightful talks to the audience. Some recent examples: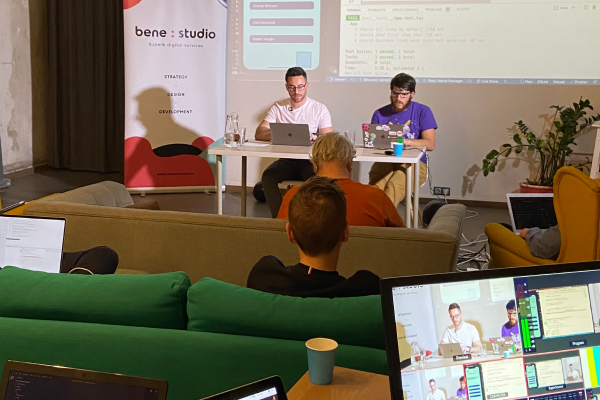 Next to offering team subscriptions to Udemy, Masterclass, and Medium, you can also request any books for learning purposes. We have internal workshops where our teammates can present their knowledge gained on different projects and work together in teams to learn about various engineering topics. And if you'd like to broaden your knowledge differently, we're always here to discuss it.
3. Flexible work environment
To deliver the best possible quality to our clients, we provide the latest Mac computers, equipment, and all the tools you need to work effectively and efficiently. Even though we have a beautiful, bike and dog-friendly office in downtown Budapest (it won a prize back in 2016!), we support your preferred working style. Is it hybrid? Is it remote? Or do you choose to have lunch together in the office? We're here to consider every option. In the first months, we'd like to support your onboarding journey in the office – and if you're in a managerial role, we find regular face-to-face meetings the most effective – but what really matters is to bring your A-game to work. We also support better work-life balance by providing flexible working hours and location and personalizing our processes to your needs.
4. Nurturing our team culture and community
It's a fact: we spend most of our time at work. This may sound disappointing at first, but it's not if you're surrounded by amazing people who support you on your growth journey and can become great friends. This is exactly what we're aiming for when organizing frequent team gatherings. Lunches, birthday celebrations, in-house concerts, breakfasts, spontaneous drinks after work, you name it – we make sure to spend quality time together at least twice a month. We also won the Loveable Workplace Prize for the third time in 2021, and you can read more about it here.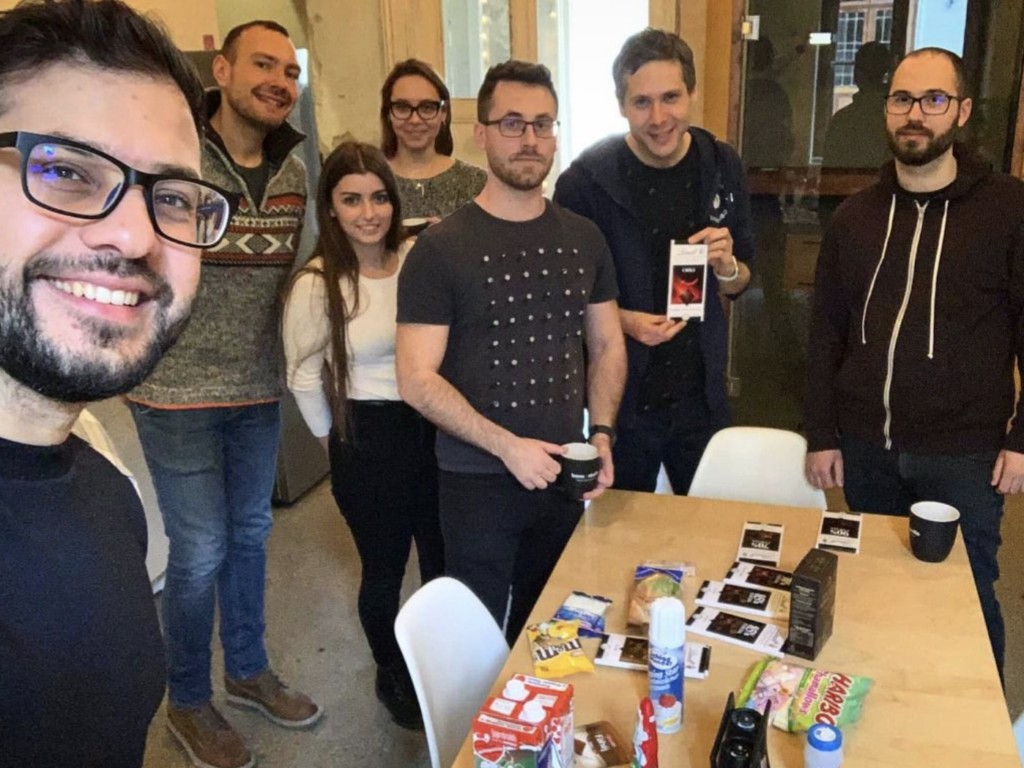 We're keeping an eye on what's happening in the labor market, and we know we need to step up our game if we'd like to attract the best talent out there. Especially now that we're about to double our team, we are putting more emphasis and effort on being a great employer and iterating on our processes to fit our team members' needs better.
5. Helping the world to be a better & healthier place
We started turning our attention to HealthTech as a company a long time ago and specializing in it during the COVID crisis. As we designed and developed several health-related services for companies like GE HealthCare, DynamiCare, and Johns Hopkins University, we found our mission and founded the HealthTech Networking Club as well. We had the chance to learn from experts from the medical field and work on impactful projects like designing and developing a rehabilitation app for people suffering from addiction. We realized how great it is to work on things that make people's lives better and positively affect their health and lifespan. As a result, most of our projects are HealthTech-related, and we're working closely with hospitals and professionals in the medical field. Of course, we like to work on a wide scale of projects, and the studio is always open to exciting challenges.
6. A job you can count on
An organization's operation and future are fundamentally defined and altered by its shareholders. Being aligned and having shared goals with the investors is crucial to providing a balanced and financially safe work environment. This year we've seen VCs taking a step back. Seeing a company's growth differently and having a disparate long-term vision in the board can easily come with a human cost, resulting in mass layoffs at startups and big companies too. The economic crisis also reared its head, making people feel insecure about their jobs, especially when their work heavily depends on investor funds.
We at bene : studio are safe to say that we're growing at a healthy pace and 100% confident when inviting you to join. bene : studio has been profitable from the very beginning: financial instability never forced us to let people go. Next to having a large amount of capital reserve, we can be sure to deliver on our promises, just like expanding in the US and the HealthTech industry.
We currently have four shareholders: Bálint Bene (CEO), Aliz Bene (COO), Petya Balogh (CEO of NNG, investor), and Péter Csillag (CEO of Starschema, angel investor). They all brought immense experience to build the studio and support its growth throughout the years. We see our board members as business partners, and we never had to experience any external pressure. We all want the same thing: having a great business offering top-notch services and building a loveable workplace.
Do you like what you see? Head to our Careers page to see our latest openings – we're currently looking to expand our team in Hungary and the US, mostly looking for engineers, project managers, and product designers.
Let bene : studio enhance
your digital product!