bene : studio is a global consultancy, helping startups, enterprises and HealthTech companies to have better product
How to create a lovable workplace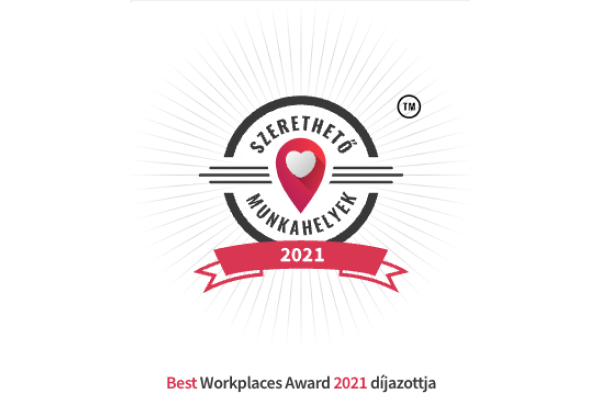 Bene : studio won the Loveable Workplace Prize in 2021 for the third time. We would like to share the journey of how we achieved this. If you are a manager or leader of an organization, these practices may be useful to you as well.
You need a great team
You cannot have a great workplace without good people. We are proud of our team and appreciate every day when we can work together. We recognize that we are all humans and the work atmosphere should be suitable for human interactions. We shape the office life involving everyone. During the challenging times of the pandemic, their input, flexibility, professionalism and perseverance were extremely important to maintain the high quality of our work.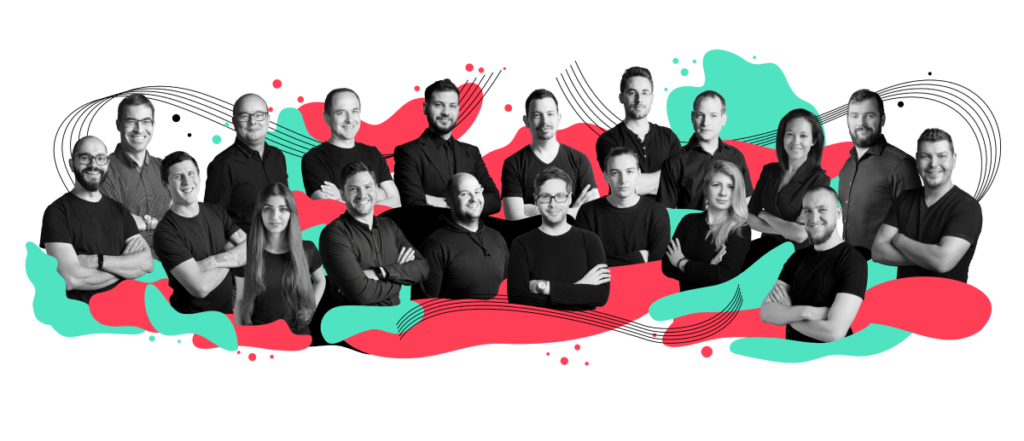 Pssst… by the way, we are hiring; check out our open positions.
Find great advisors
We have experienced advisors in our board who have already built successful companies. Petya Balogh founder of many companies, including NavNGO and Péter Csillag angel investor, and founder of Starschema brought their immense experience to building bene : studio and ensuring its growth.
Share knowledge and support your community
Knowledge sharing is one of the most essential parts of our DNA. We love supporting not only our employees but the whole community of developers and our partners with the knowledge we have acquired.
For years now, we have dedicated time for internal workshops, enabling our developers to learn from each other. We organize public workshops as well, open to outside engineers to build fantastic apps together. This year we organized live, in person workshops with Prezi, Transferwise, Bitrise, and many more, contributing to a workplace full of community events and learning.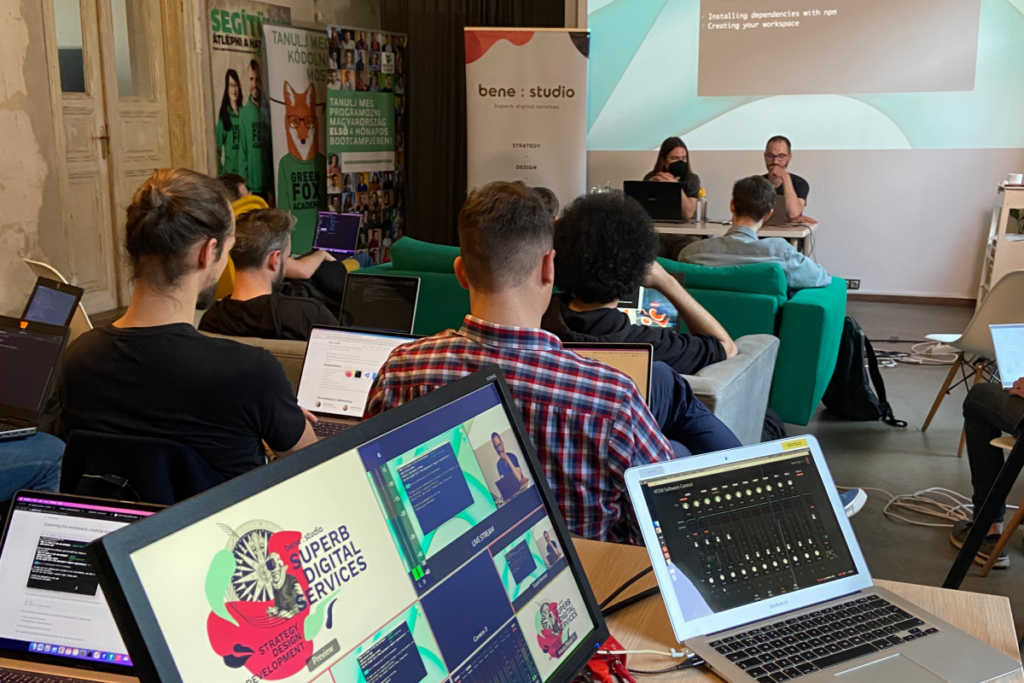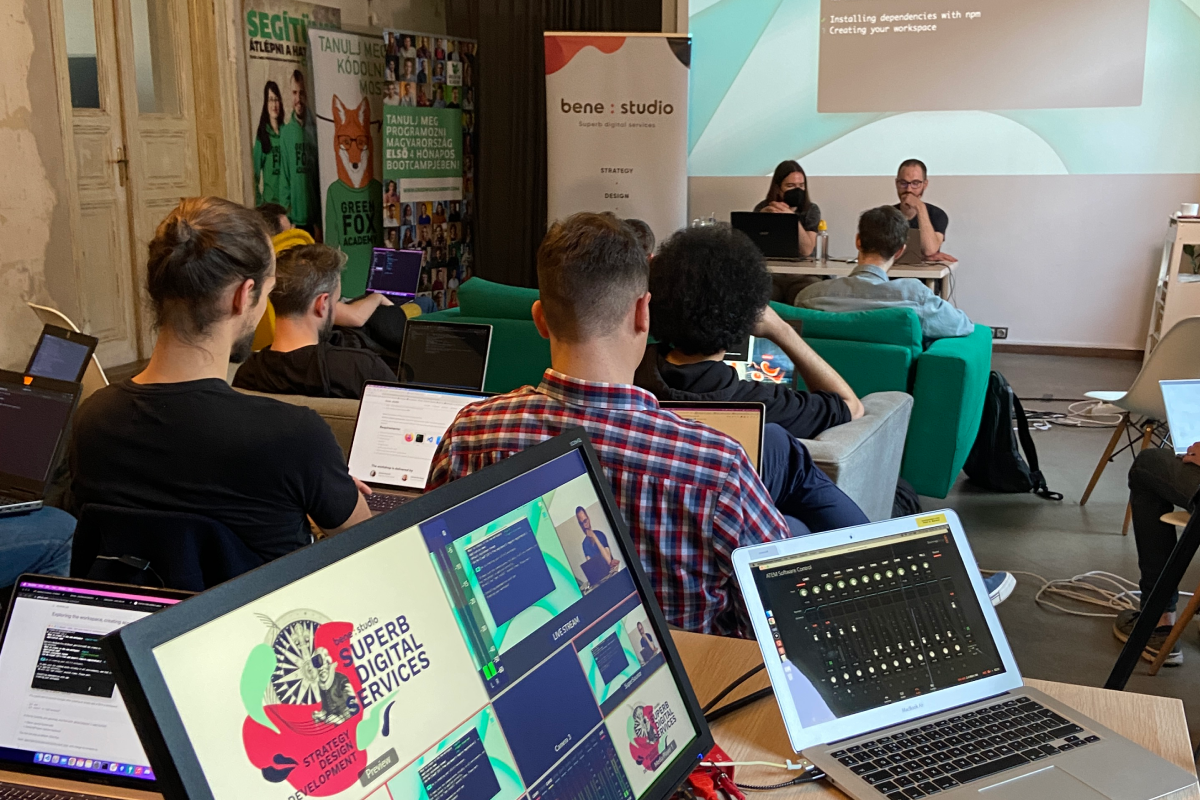 Our partners are also part of our community. As a HealthTech-focused software company we have started organizing the HealthTech Networking Club with industry-leading professionals from the US and Western Europe to achieve the same goal: share knowledge and make connections. The monthly RapidConfs have been very successful, getting around 10k views each on YouTube.
Tackle the challenges of lockdowns
When the pandemic hit, it changed workplaces. There were lockdowns, employees started working from home, and we had to do team and client meetings remotely. Luckily, as a digital product consultancy with global clients and global teams had experience in working remotely in various aspects. During the worst of the pandemic, we had transitioned to a fully remote environment.
Tackling the challenges of the lockdown is not only about work efficiency but psychological safety and other issues.
Isolation
Our teams work collaboratively via Slack, but this can sometimes result in missed opportunities for sharing ideas that often happen organically in person. We try to combat the issue of isolation with regular meetings that include both project focused meetings as well as casual events like online board games, virtual team lunches, and other opportunities for casual interactions such as scheduled topics of discussion. One good example of this is the case of Studio Demos. Beforehand engineers showed each other their work in person, casually. During the lockdown, we transitioned this to a weekly planned event involving all engineers.
Technical challenges
We support our team members with high-quality equipment and technical support to address these challenges like network connection, access, time zone differences, video call quality, etc. They could also furnish their home office with chairs and monitors if needed.
Brainstorming and inspiration
Brainstorming, strategy meetings, and inspiration can be challenging in a virtual environment compared to a physical space. We hold virtual walking meetings to incorporate some physical activity and creative thinking. We also try to incorporate warmup and introduction activities for our virtual meetings to help create a productive environment in our meetings.
Team dynamic
Team dynamics and teamwork can suffer when there is a lack of personal connection that often grows through physical proximity and shared workspaces. This can often result in a lack of regular communication. We provide a lot of professional development and workshops focused on these topics, including scrum methodology and sprint planning meetings which help provide a framework for our staff.
Soft feedback
Soft feedback and sensitive conversations can be more difficult remotely, and employees have less access to management and opportunities for unscheduled interactions. The lack of regular feedback can also lead to miscommunication or a lack of understanding of the impact of communication from leadership. We hold regular one-on-one meetings with our team members, colleagues, and supervisors monthly to allow for feedback and to create a foundation for our team morale. This also serves as a suitable method for preventing problems and allows us to identify weak points before they become bigger issues.
You can read more about these solutions and how we give feedback in this interview with our CEO.
Perks and benefits
We believe that a supportive and inspiring environment is key in helping us focus on what matters the most: solving real problems of users and delivering excellent products to our clients, and creating a lovable workplace.
Therefore we provide the latest tech and the best tools available to our employees. Our centrally located bike and dog-friendly office is equipped with the coolest darts on the planet and has all the amenities, coffee, and snacks one may need. We provide lots of team building and socializing opportunities, but most of all, we promote knowledge sharing and the learning and development of our employees.
Join our team, we are hiring!
Let bene : studio enhance
your digital product!